Electric Generator
(Resident Evil 3 Remake)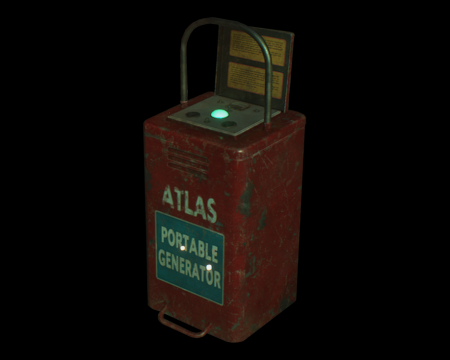 A small portable electrical generator.
These were placed throughout the city due to the power outages that were occurring in the build up the city-wide infection, as detailed in the
Electrician's Notice
file. If shot, they will emit a powerful surge of electricity and cause any enemy close by to become electrocuted, stunning them for a short period of time.
| | |
| --- | --- |
| Category | Miscellaneous object |
Location
Shopping Plaza - Downtown

Assisted

1 × Electric Generator - On the ground amongst the discarded furniture.

View location

|

Show on map

Shopping Plaza - Downtown

Standard

1 × Electric Generator - On the ground amongst the discarded furniture.

View location

|

Show on map

Shopping Plaza - Downtown

Hardcore

1 × Electric Generator - On the ground amongst the discarded furniture.

View location

|

Show on map

Shopping Plaza - Downtown

Nightmare

1 × Electric Generator - On the ground amongst the discarded furniture.

View location

|

Show on map

Shopping Plaza - Downtown

Inferno

1 × Electric Generator - On the ground amongst the discarded furniture.

View location

|

Show on map

Back Alley - Downtown

Assisted

1 × Electric Generator - On the ground in the north east area of the alley.

View location

|

Show on map

Back Alley - Downtown

Standard

1 × Electric Generator - On the ground in the north east area of the alley.

View location

|

Show on map

Back Alley - Downtown

Hardcore

1 × Electric Generator - On the ground in the north east area of the alley.

View location

|

Show on map

Back Alley - Downtown

Nightmare

1 × Electric Generator - On the ground in the north east area of the alley.

View location

|

Show on map

Back Alley - Downtown

Inferno

1 × Electric Generator - On the ground in the north east area of the alley.

View location

|

Show on map

Power Maze A - Subway Power Substation

Assisted

1 × Electric Generator - On the ground on the south side of the maze.

View location

|

Show on map

Power Maze A - Subway Power Substation

Standard

1 × Electric Generator - On the ground on the south side of the maze.

View location

|

Show on map

Power Maze A - Subway Power Substation

Hardcore

1 × Electric Generator - On the ground on the south side of the maze.

View location

|

Show on map

Power Maze A - Subway Power Substation

Nightmare

1 × Electric Generator - On the ground on the south side of the maze.

View location

|

Show on map

Power Maze A - Subway Power Substation

Inferno

1 × Electric Generator - On the ground on the south side of the maze.

View location

|

Show on map

Power Maze B - Subway Power Substation

Assisted

1 × Electric Generator - Behind the fence in the north west area of the maze.

View location

|

Show on map

Power Maze B - Subway Power Substation

Standard

1 × Electric Generator - Behind the fence in the north west area of the maze.

View location

|

Show on map

Power Maze B - Subway Power Substation

Hardcore

1 × Electric Generator - Behind the fence in the north west area of the maze.

View location

|

Show on map

Power Maze B - Subway Power Substation

Nightmare

1 × Electric Generator - Behind the fence in the north west area of the maze.

View location

|

Show on map

Power Maze B - Subway Power Substation

Inferno

1 × Electric Generator - Behind the fence in the north west area of the maze.

View location

|

Show on map

East Access Passage - Redstone Street Station

Assisted

1 × Electric Generator - In the south east corner of the passage.

View location

|

Show on map

East Access Passage - Redstone Street Station

Standard

1 × Electric Generator - In the south east corner of the passage.

View location

|

Show on map

East Access Passage - Redstone Street Station

Hardcore

1 × Electric Generator - In the south east corner of the passage.

View location

|

Show on map

East Access Passage - Redstone Street Station

Nightmare

1 × Electric Generator - In the south east corner of the passage.

View location

|

Show on map

East Access Passage - Redstone Street Station

Inferno

1 × Electric Generator - In the south east corner of the passage.

View location

|

Show on map

Roof - Demolition Site Roof

Assisted

1 × Electric Generator - On the ground next to the stacks of materials in the south west area of the roof.

View location

|

Show on map

Roof - Demolition Site Roof

Standard

1 × Electric Generator - On the ground next to the stacks of materials in the south west area of the roof.

View location

|

Show on map

Roof - Demolition Site Roof

Hardcore

1 × Electric Generator - On the ground next to the stacks of materials in the south west area of the roof.

View location

|

Show on map

Roof - Demolition Site Roof

Nightmare

1 × Electric Generator - On the ground next to the stacks of materials in the south west area of the roof.

View location

|

Show on map

Roof - Demolition Site Roof

Inferno

1 × Electric Generator - On the ground next to the stacks of materials in the south west area of the roof.

View location

|

Show on map