Unsealed Envelope
(Resident Evil 3 Remake)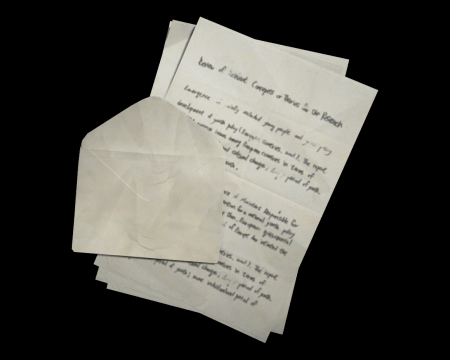 | | |
| --- | --- |
| Category | File (Apartment Building) |
Transcript
They've got me pinned down at home. Guys across the street are watching me from their window 24/7. Are they Irons' men? Umbrella's? I don't know, and there's no real difference anyway.

I know what they're trying to do. They want to wear me down, torment me into compliance, and it's working. I'm barely eating, barely sleeping...

I'm going crazy. I feel like the living dead.

But I won't let them win. I have to get out of the city and find a way to make them accountable. They'll send someone to silence me, of course. If you hear that I've been killed...or whatever it is they do to people like me...you MUST pick up the investigation where I left off. I've enclosed my files. They'll tell you everything you need to know, as long as this package isn't intercepted.

I'll be moving out at night. Five days.
Wish me luck.
Location
Apartment Building

Assisted

Apartment Building

Standard

Apartment Building

Hardcore

Apartment Building

Nightmare

Apartment Building

Inferno