Film
(Resident Evil 2)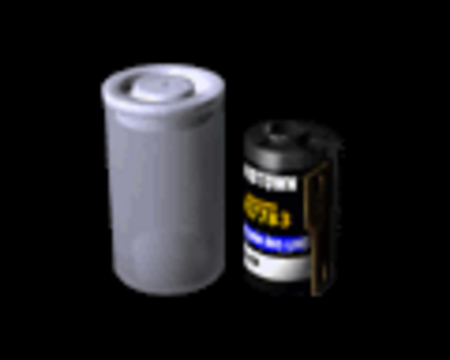 I can't tell what's on the film until I develop it.
A small canister of photography film.
In order to see what's on the film, it has to be developed in the
Dark Room
of the
Police Station
. There are four canisters within the game, but not all four of them are available for a single character.
Developing the films will yield the following files:
| | |
| --- | --- |
| Category | Item (Object, tool or key) |
Location
S.T.A.R.S. Office - Police Station 2F

Leon A (Normal)

Film D - Inside Albert Wesker's desk. You have to search it fifty times to find it.

View location

|

Show on map

S.T.A.R.S. Office - Police Station 2F

Leon B (Normal)

Film D - Inside Albert Wesker's desk. You have to search it fifty times to find it.

View location

|

Show on map

S.T.A.R.S. Office - Police Station 2F

Claire A (Normal)

Film D - Inside Albert Wesker's desk. You have to search it fifty times to find it.

View location

|

Show on map

S.T.A.R.S. Office - Police Station 2F

Claire B (Normal)

Film D - Inside Albert Wesker's desk. You have to search it fifty times to find it.

View location

|

Show on map

Evidence Room - Police Station 1F

Leon A (Normal)

Film A - In one of the lockers at the back of the room.

View location

|

Show on map

Evidence Room - Police Station 1F

Claire A (Normal)

Film A - In one of the lockers at the back of the room.

View location

|

Show on map

Evidence Room - Police Station 1F

Leon B (Normal)

Film B - In one of the lockers at the back of the room.

View location

|

Show on map

Evidence Room - Police Station 1F

Claire B (Normal)

Film B - In one of the lockers at the back of the room.

View location

|

Show on map

Cell Block Entrance - Police Station B1

Leon B (Normal)

Film C - On the table next to the gate to the cells.

View location

|

Show on map

Cell Block Entrance - Police Station B1

Claire B (Normal)

Film C - On the table next to the gate to the cells.

View location

|

Show on map

Press Room - Police Station 1F

Leon A (Normal)

Film B - On the table in the south east corner of the room.

View location

|

Show on map

Press Room - Police Station 1F

Claire A (Normal)

Film B - On the table in the south east corner of the room.

View location

|

Show on map

There are no locations to show for this mode. The following modes are applicable: