G
(Resident Evil 2)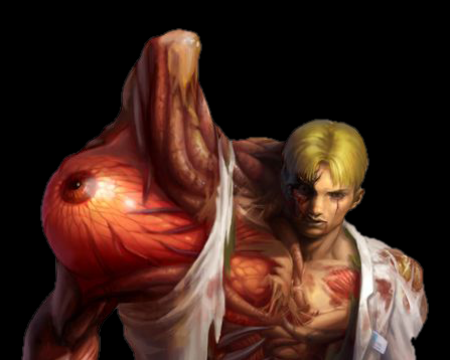 The first mutation of the creature known as G, formally
William Birkin
.
In this form he still partly resembles his former self. The main characteristic is its overly large arm. This was due to the G-Virus overcompensating for a specific injury and mutating in an uncontrolled fashion, in this case it was the bullet-riddled arm when Birkin was shot by the Umbrella forces coming to steal his research. Additionally, the G-Virus has one consistent mutation pattern in all the hosts it infects, and that is the presence of a large eye, presumably its own method of vision at this stage.
When you do battle against it, it is best to avoid that large arm by keeping a good distance between yourself and the large metal pipe it holds as a weapon. Unload a barrage of weapon fire from either your
Enhanced Shotgun
or the
Grenade Launcher
and it will fall to its knees in no time.
| | |
| --- | --- |
| Category | Enemy |
| Other appearances | |
Location
Septic Pool Walkway - Sewage Disposal

Leon B (Normal)

Appears here after acquiring all four plugs.

View location

|

Show on map

Cavernous Walkway - Sewage Disposal

Claire B (Normal)

Appears on the walkway when you approach.

View location

|

Show on map

There are no locations to show for this game mode. The following game modes are applicable: