Herbicide Synthesis
(Resident Evil 2 Remake)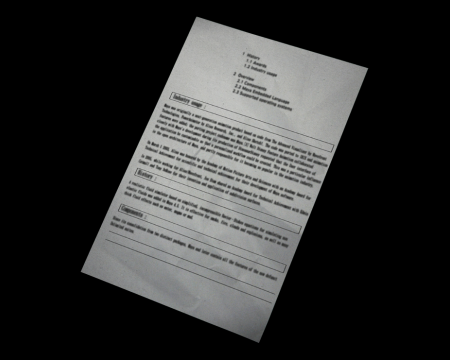 | | |
| --- | --- |
| Category | File (Laboratory) |
Transcript
Plant 43

Herbicide

Synthesis

Place an empty cartridge into the Solution Dispenser

Add the required amount of UMB No.21 (Ρ-ε)


Cool

immediately


Plant 43 exhibits astounding growth. If something unfortunate were to occur, it may be hard to control. In the event of an unforeseen incident, manufacture the herbicide using the instructions above in order to minimize damage.
Location
Drug Testing Lab - Laboratory B1

Leon (Standard)

On the south end of the bank of desks lining the middle of the room.

View location

|

Show on map

Drug Testing Lab - Laboratory B1

Claire (Standard)

On the south end of the bank of desks lining the middle of the room.

View location

|

Show on map

Drug Testing Lab - Laboratory B1

Leon [2nd] (Standard)

On the south end of the bank of desks lining the middle of the room.

View location

|

Show on map

Drug Testing Lab - Laboratory B1

Claire [2nd] (Standard)

On the south end of the bank of desks lining the middle of the room.

View location

|

Show on map

Drug Testing Lab - Laboratory B1

Leon (Hardcore)

On the south end of the bank of desks lining the middle of the room.

View location

|

Show on map

Drug Testing Lab - Laboratory B1

Claire (Hardcore)

On the south end of the bank of desks lining the middle of the room.

View location

|

Show on map

Drug Testing Lab - Laboratory B1

Leon [2nd] (Hardcore)

On the south end of the bank of desks lining the middle of the room.

View location

|

Show on map

Drug Testing Lab - Laboratory B1

Claire [2nd] (Hardcore)

On the south end of the bank of desks lining the middle of the room.

View location

|

Show on map

There are no locations to show for this mode. The following modes are applicable: