A Message From Mr. Raccoon
(Resident Evil 2 Remake)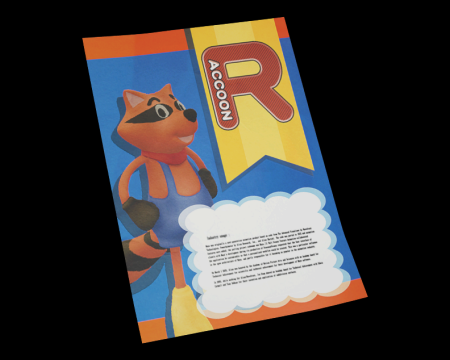 | | |
| --- | --- |
| Category | File (Police Station) |
Transcript
Howdy boys and girls! It's your pal from the Raccoon City Zoo! It's always great to see you!

Today, I want to talk about something really important to me. You know my popular

Mr. Raccoon toys

? Well, I heard some bad kids have been using them for

target practice

, but that makes me really sad...

Good little kids wouldn't be that mean, right? Plus it's super, super dangerous, so just don't do it!

Anyway, see you at the zoo!

Mr. Raccoon out!
Location
Firing Range - Police Station B1

Leon (Standard)

On the reception bench on the north side of the room.

View location

|

Show on map

Firing Range - Police Station B1

Claire (Standard)

On the reception bench on the north side of the room.

View location

|

Show on map

Firing Range - Police Station B1

Leon [2nd] (Standard)

On the reception bench on the north side of the room.

View location

|

Show on map

Firing Range - Police Station B1

Claire [2nd] (Standard)

On the reception bench on the north side of the room.

View location

|

Show on map

Firing Range - Police Station B1

Leon (Hardcore)

On the reception bench on the north side of the room.

View location

|

Show on map

Firing Range - Police Station B1

Claire (Hardcore)

On the reception bench on the north side of the room.

View location

|

Show on map

Firing Range - Police Station B1

Leon [2nd] (Hardcore)

On the reception bench on the north side of the room.

View location

|

Show on map

Firing Range - Police Station B1

Claire [2nd] (Hardcore)

On the reception bench on the north side of the room.

View location

|

Show on map

There are no locations to show for this game mode. The following game modes are applicable: