Green Herb
(Resident Evil)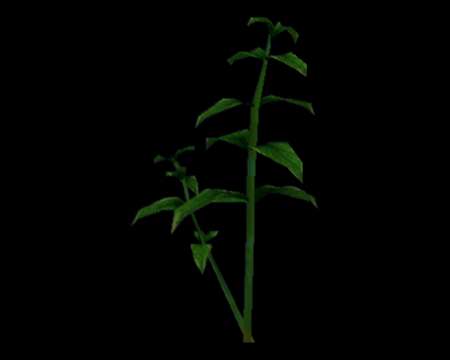 It's a local herb.
One of three different herbs found growing in pots around the Mansion and surrounding area.
The most useful of the three herbs you can find. The Green Herb by itself will restore a small amount of health, but can be enhanced by combining it with another Green Herb to create the
Mixed Herbs (G+G)
which will double its potency. It can also be combined with the
Blue Herb
to create the
Mixed Herbs (G+B)
or combined with the
Red Herb
to create
Mixed Herbs (G+R)
.
| | |
| --- | --- |
| Category | Item (Recovery item) |
Statistics
| Game mode | Sum total |
| --- | --- |
| Jill | 38 |
| Jill (Arranged / Advanced) | 37 |
| Jill (Deadly Silence Rebirth) | 39 |
| Chris | 38 |
| Chris (Arranged / Advanced) | 37 |
| Chris (Deadly Silence Rebirth) | 38 |
Location
Winding Passage - Mansion 1F

Jill

1 Green Herb - On the floor opposite the entrance to the outside boiler.

View location

|

Show on map

Winding Passage - Mansion 1F

Jill (Arranged / Advanced)

1 Green Herb - On the floor opposite the entrance to the outside boiler.

View location

|

Show on map

Winding Passage - Mansion 1F

Jill (Deadly Silence Rebirth)

1 Green Herb - On the floor opposite the entrance to the outside boiler.

View location

|

Show on map

Winding Passage - Mansion 1F

Chris

1 Green Herb - On the floor opposite the entrance to the outside boiler.

View location

|

Show on map

Winding Passage - Mansion 1F

Chris (Arranged / Advanced)

1 Green Herb - On the floor opposite the entrance to the outside boiler.

View location

|

Show on map

East Stairway 1F - Mansion 1F

Jill (Arranged / Advanced)

1 Green Herb - On the floor next to the stairs.

View location

|

Show on map

East Stairway 1F - Mansion 1F

Jill (Deadly Silence Rebirth)

1 Green Herb - On the floor next to the stairs.

View location

|

Show on map

East Stairway 1F - Mansion 1F

Chris (Arranged / Advanced)

1 Green Herb - On the floor next to the stairs.

View location

|

Show on map

East Stairway 1F - Mansion 1F

Chris (Deadly Silence Rebirth)

1 Green Herb - On the floor next to the stairs.

View location

|

Show on map

Greenhouse - Mansion 1F

Jill (Arranged / Advanced)

4 Green Herbs - On the benches next to the fountain.

View location

|

Show on map

Greenhouse - Mansion 1F

Jill (Deadly Silence Rebirth)

4 Green Herbs - On the benches next to the fountain.

View location

|

Show on map

Greenhouse - Mansion 1F

Chris (Arranged / Advanced)

4 Green Herbs - On the benches next to the fountain.

View location

|

Show on map

Greenhouse - Mansion 1F

Chris (Deadly Silence Rebirth)

4 Green Herbs - On the benches next to the fountain.

View location

|

Show on map

Outside Boiler - Mansion 1F

Jill (Arranged / Advanced)

5 Green Herbs - On the ground next to the rusty boiler.

View location

|

Show on map

Outside Boiler - Mansion 1F

Jill (Deadly Silence Rebirth)

6 Green Herbs - On the ground next to the rusty boiler.

View location

|

Show on map

Outside Boiler - Mansion 1F

Chris (Arranged / Advanced)

5 Green Herbs - On the ground next to the rusty boiler.

View location

|

Show on map

Outside Boiler - Mansion 1F

Chris (Deadly Silence Rebirth)

6 Green Herbs - On the ground next to the rusty boiler.

View location

|

Show on map

Wardrobe - Mansion 1F

Jill (Arranged / Advanced)

2 Green Herbs - On the floor in the south east corner of the room.

View location

|

Show on map

Wardrobe - Mansion 1F

Jill (Deadly Silence Rebirth)

2 Green Herbs - On the floor in the south east corner of the room.

View location

|

Show on map

Wardrobe - Mansion 1F

Chris (Arranged / Advanced)

2 Green Herbs - On the floor in the south east corner of the room.

View location

|

Show on map

Wardrobe - Mansion 1F

Chris (Deadly Silence Rebirth)

2 Green Herbs - On the floor in the south east corner of the room.

View location

|

Show on map

Lesson Room Entry - Mansion 2F

Jill (Arranged / Advanced)

1 Green Herb - On the floor in the corner of the room.

View location

|

Show on map

Lesson Room Entry - Mansion 2F

Jill (Deadly Silence Rebirth)

1 Green Herb - On the floor in the corner of the room.

View location

|

Show on map

Lesson Room Entry - Mansion 2F

Chris (Arranged / Advanced)

1 Green Herb - On the floor in the corner of the room.

View location

|

Show on map

Lesson Room Entry - Mansion 2F

Chris (Deadly Silence Rebirth)

1 Green Herb - On the floor in the corner of the room.

View location

|

Show on map

Pillar Passage - Mansion 2F

Jill (Arranged / Advanced)

2 Green Herbs - On the floor behind the pillar.

View location

|

Show on map

Pillar Passage - Mansion 2F

Jill (Deadly Silence Rebirth)

2 Green Herbs - On the floor behind the pillar.

View location

|

Show on map

Pillar Passage - Mansion 2F

Chris (Arranged / Advanced)

2 Green Herbs - On the floor behind the pillar.

View location

|

Show on map

Pillar Passage - Mansion 2F

Chris (Deadly Silence Rebirth)

2 Green Herbs - On the floor behind the pillar.

View location

|

Show on map

Courtyard Garden - Courtyard

Jill

3 Green Herbs - On the ground next to the double doors in the south east corner of the garden.

View location

|

Show on map

Courtyard Garden - Courtyard

Jill (Arranged / Advanced)

3 Green Herbs - On the ground next to the double doors in the south east corner of the garden.

View location

|

Show on map

Courtyard Garden - Courtyard

Jill (Deadly Silence Rebirth)

3 Green Herbs - On the ground next to the double doors in the south east corner of the garden.

View location

|

Show on map

Courtyard Garden - Courtyard

Chris

3 Green Herbs - On the ground next to the double doors in the south east corner of the garden.

View location

|

Show on map

Courtyard Garden - Courtyard

Chris (Arranged / Advanced)

3 Green Herbs - On the ground next to the double doors in the south east corner of the garden.

View location

|

Show on map

Courtyard Garden - Courtyard

Chris (Deadly Silence Rebirth)

3 Green Herbs - On the ground next to the double doors in the south east corner of the garden.

View location

|

Show on map

Guardhouse Gate - Courtyard

Jill (Arranged / Advanced)

2 Green Herbs - On the ground next to the entrance gate.

View location

|

Show on map

Guardhouse Gate - Courtyard

Jill (Deadly Silence Rebirth)

2 Green Herbs - On the ground next to the entrance gate.

View location

|

Show on map

Guardhouse Gate - Courtyard

Chris (Arranged / Advanced)

2 Green Herbs - On the ground next to the entrance gate.

View location

|

Show on map

Guardhouse Gate - Courtyard

Chris (Deadly Silence Rebirth)

2 Green Herbs - On the ground next to the entrance gate.

View location

|

Show on map

Guardhouse Entry - Guardhouse 1F

Jill (Deadly Silence Rebirth)

1 Green Herb - On the floor opposite the entrance.

View location

|

Show on map

Guardhouse Entry - Guardhouse 1F

Chris (Deadly Silence Rebirth)

1 Green Herb - On the floor opposite the entrance.

View location

|

Show on map

Central Corridor - Guardhouse 1F

Jill

3 Green Herbs - On the floor at the northern end of the corridor. Push the statue into the alcove in order to access them.

View location

|

Show on map

Central Corridor - Guardhouse 1F

Jill (Arranged / Advanced)

3 Green Herbs - On the floor at the northern end of the corridor. Push the statue into the alcove in order to access them.

View location

|

Show on map

Central Corridor - Guardhouse 1F

Jill (Deadly Silence Rebirth)

3 Green Herbs - On the floor at the northern end of the corridor. Push the statue into the alcove in order to access them.

View location

|

Show on map

Central Corridor - Guardhouse 1F

Chris

3 Green Herbs - On the floor at the northern end of the corridor. Push the statue into the alcove in order to access them.

View location

|

Show on map

Central Corridor - Guardhouse 1F

Chris (Arranged / Advanced)

3 Green Herbs - On the floor at the northern end of the corridor. Push the statue into the alcove in order to access them.

View location

|

Show on map

Central Corridor - Guardhouse 1F

Chris (Deadly Silence Rebirth)

3 Green Herbs - On the floor at the northern end of the corridor. Push the statue into the alcove in order to access them.

View location

|

Show on map

Water Tank Entry - Guardhouse B1

Jill

2 Green Herbs - On the floor opposite the door to the water tank room.

View location

|

Show on map

Water Tank Entry - Guardhouse B1

Jill (Arranged / Advanced)

2 Green Herbs - On the floor opposite the door to the water tank room.

View location

|

Show on map

Water Tank Entry - Guardhouse B1

Jill (Deadly Silence Rebirth)

2 Green Herbs - On the floor opposite the door to the water tank room.

View location

|

Show on map

Water Tank Entry - Guardhouse B1

Chris

2 Green Herbs - On the floor opposite the door to the water tank room.

View location

|

Show on map

Water Tank Entry - Guardhouse B1

Chris (Arranged / Advanced)

2 Green Herbs - On the floor opposite the door to the water tank room.

View location

|

Show on map

Water Tank Entry - Guardhouse B1

Chris (Deadly Silence Rebirth)

2 Green Herbs - On the floor opposite the door to the water tank room.

View location

|

Show on map

Underground Passage 2 - Mansion B1

Jill

2 Green Herbs - On the floor in the eastern end of the passage.

View location

|

Show on map

Underground Passage 2 - Mansion B1

Jill (Arranged / Advanced)

2 Green Herbs - On the floor in the eastern end of the passage.

View location

|

Show on map

Underground Passage 2 - Mansion B1

Jill (Deadly Silence Rebirth)

2 Green Herbs - On the floor in the eastern end of the passage.

View location

|

Show on map

Underground Passage 2 - Mansion B1

Chris

2 Green Herbs - On the floor in the eastern end of the passage.

View location

|

Show on map

Underground Passage 2 - Mansion B1

Chris (Arranged / Advanced)

2 Green Herbs - On the floor in the eastern end of the passage.

View location

|

Show on map

Underground Passage 2 - Mansion B1

Chris (Deadly Silence Rebirth)

2 Green Herbs - On the floor in the eastern end of the passage.

View location

|

Show on map

Elevator 2F - Mansion 2F

Jill

1 Green Herb - On the floor in the small alcove next to the elevator.

View location

|

Show on map

Elevator 2F - Mansion 2F

Jill (Arranged / Advanced)

1 Green Herb - On the floor in the small alcove next to the elevator.

View location

|

Show on map

Elevator 2F - Mansion 2F

Jill (Deadly Silence Rebirth)

1 Green Herb - On the floor in the small alcove next to the elevator.

View location

|

Show on map

Elevator 2F - Mansion 2F

Chris

1 Green Herb - On the floor in the small alcove next to the elevator.

View location

|

Show on map

Elevator 2F - Mansion 2F

Chris (Arranged / Advanced)

1 Green Herb - On the floor in the small alcove next to the elevator.

View location

|

Show on map

Elevator 2F - Mansion 2F

Chris (Deadly Silence Rebirth)

1 Green Herb - On the floor in the small alcove next to the elevator.

View location

|

Show on map

Fountain - Courtyard

Jill (Arranged / Advanced)

2 Green Herbs - On the ground near the welded doors.

View location

|

Show on map

Fountain - Courtyard

Jill (Deadly Silence Rebirth)

2 Green Herbs - On the ground near the welded doors.

View location

|

Show on map

Fountain - Courtyard

Chris (Arranged / Advanced)

2 Green Herbs - On the ground near the welded doors.

View location

|

Show on map

Fountain - Courtyard

Chris (Deadly Silence Rebirth)

2 Green Herbs - On the ground near the welded doors.

View location

|

Show on map

Stairway - Laboratory B2

Jill (Arranged / Advanced)

2 Green Herbs - On the floor next to the stair railing.

View location

|

Show on map

Stairway - Laboratory B2

Jill (Deadly Silence Rebirth)

2 Green Herbs - On the floor next to the stair railing.

View location

|

Show on map

Stairway - Laboratory B2

Chris (Arranged / Advanced)

2 Green Herbs - On the floor next to the stair railing.

View location

|

Show on map

Stairway - Laboratory B2

Chris (Deadly Silence Rebirth)

2 Green Herbs - On the floor next to the stair railing.

View location

|

Show on map

X-Ray Room - Laboratory B3

Jill (Arranged / Advanced)

1 Green Herb - On the floor on the west side of the room.

View location

|

Show on map

X-Ray Room - Laboratory B3

Jill (Deadly Silence Rebirth)

1 Green Herb - On the floor on the west side of the room.

View location

|

Show on map

X-Ray Room - Laboratory B3

Chris (Arranged / Advanced)

1 Green Herb - On the floor on the west side of the room.

View location

|

Show on map

X-Ray Room - Laboratory B3

Chris (Deadly Silence Rebirth)

1 Green Herb - On the floor on the west side of the room.

View location

|

Show on map

Lab Save Room - Laboratory B3

Jill (Arranged / Advanced)

1 Green Herb - On the floor next to the bed.

View location

|

Show on map

Lab Save Room - Laboratory B3

Jill (Deadly Silence Rebirth)

1 Green Herb - On the floor next to the bed.

View location

|

Show on map

Lab Save Room - Laboratory B3

Chris (Arranged / Advanced)

1 Green Herb - On the floor next to the bed.

View location

|

Show on map

Lab Save Room - Laboratory B3

Chris (Deadly Silence Rebirth)

1 Green Herb - On the floor next to the bed.

View location

|

Show on map

There are no locations to show for this game mode. The following game modes are applicable: