Folding Knife
(Resident Evil Outbreak)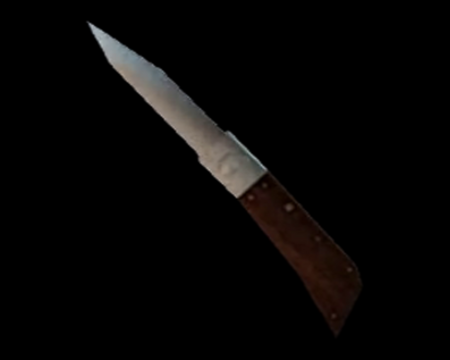 A small knife which can be folded.
A pocket knife. It is simple weapon that can cause a small amount of damage, and can cause your enemies to stagger backwards.
David
has one of these in his inventory by default as part of his
Tool Box
, and can perform a triple knife attack when timed correctly.
| | |
| --- | --- |
| Category | Weaponry (Melee weapon) |
Location
Entrance Hall - University 1F

Normal

On the desk in the middle stairway section in the centre of the hall.

View locationShow on map

Entrance Hall - University 1F

Hard

On the desk in the middle stairway section in the centre of the hall.

View locationShow on map

Student Affairs Office - University 1F

Very Hard

Inside the chest of draws at the filling counter desk on the south side of the room.

View locationShow on map

West Waterway - University B3F

Very Hard

In the water next to the ladder in the south west tunnel.

View locationShow on map

Access Waterway - University B4F

Normal

On the ground next to the iron bars in the southern corner.

View locationShow on map

Access Waterway - University B4F

Very Hard

On the ground next to the iron bars in the southern corner.

View locationShow on map

Emission Tower Lower Part - Emission Tower Lower Level

Very Hard

On the floor next to one of the large boxes near the door.

View locationShow on map

Unloading Passage - University Yard 1

Hard

On top of the large trailer, accessible by climbing up the side of it.

View locationShow on map

Unloading Passage - University Yard 1

Very Hard

On top of the large trailer, accessible by climbing up the side of it.

View locationShow on map

There are no locations to show for this mode. The following modes are applicable: