Orders
(Resident Evil Outbreak)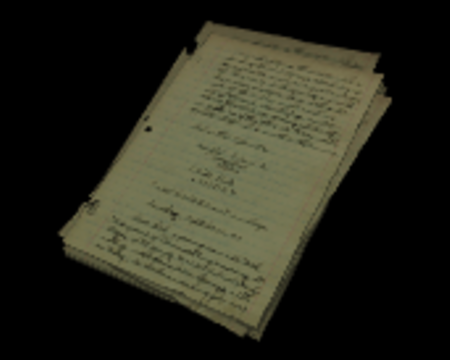 Available within the "Decisions, Decisions" scenario.
| | |
| --- | --- |
| Category | File (Decisons, Decisions) |
Transcript
ORDERS

Battle Plan:
Emperor's mushroom

Area of Operation:
Within 4 blocks of Raccoon U.

Time:
60 minutes, starting 5:35 AM.

Arms:
Basic armament: C-2 + Extractor

Purpose:
To gather T's blood (Code name:

T-blood

) -or- to kill T and retrieve its body.

Supplementary Information:

Biggest priority of the operation is to gather T-blood and erase all of T's traces. If the body is deemed too difficult to recover, destroy it and the general area.
Location
Back Square - University Yard 1

Easy

On the body of the dead mercenary in the north east area of the square.

View locationShow on map

Back Square - University Yard 1

Normal

On the body of the dead mercenary in the north east area of the square.

View locationShow on map

Back Square - University Yard 1

Hard

On the body of the dead mercenary in the north east area of the square.

View locationShow on map

Back Square - University Yard 1

Very Hard

On the body of the dead mercenary in the north east area of the square.

View locationShow on map

There are no locations to show for this mode. The following modes are applicable: