Neuro-stun Grenade
(Resident Evil 7 Biohazard - Not a Hero)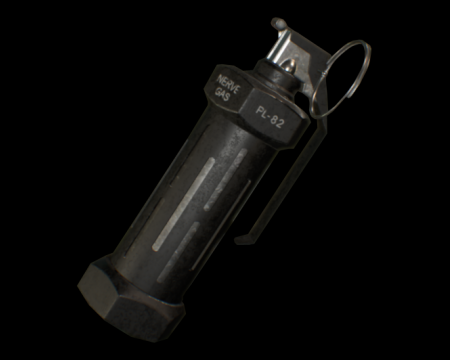 A hand grenade that releases a paralyzing gas that stuns nearby enemies.
A special type of the grenade that explodes and emits a compound that will temporarily stun any enemies caught in its blast radius, allowing you to get past unharmed. These types of grenade do work in killing the smaller
Little Crawler
variants you encounter.
| | |
| --- | --- |
| Category | Weaponry (Weapon) |
Statistics
| Game mode | Sum total |
| --- | --- |
| Easy | 6 |
| Normal | 6 |
| Professional | 6 |
Location
Storage Space - Abandoned Mine

Professional

1 Neuro-stun Grenade - On the specimen container in the middle of the room.

View location

|

Show on map

Central Cavern - Central Cavern

Professional

1 Neuro-stun Grenade - On a barrel in front of the large green shipping container in the north east area of the cavern.

View location

|

Show on map

Work Sector A - Mining Work Area

Easy

2 Neuro-stun Grenades - On one of the barrels on the eastern side of the central area of the cavern.

View location

|

Show on map

Work Sector A - Mining Work Area

Normal

2 Neuro-stun Grenades - On one of the barrels on the eastern side of the central area of the cavern.

View location

|

Show on map

Section (C3) - Storage Area

Easy

2 Neuro-stun Grenades - On top of one of the large wooden crates in the north east corner of this section.

View location

|

Show on map

Section (C3) - Storage Area

Normal

2 Neuro-stun Grenades - On top of one of the large wooden crates in the north east corner of this section.

View location

|

Show on map

Section (N3) - Storage Area

Professional

1 Neuro-stun Grenade - On the wooden pallet at the southern end of this section.

View location

|

Show on map

Section (N1) - Storage Area

Professional

1 Neuro-stun Grenade - On the shelves on the south side of the north eastern passage of this section.

View location

|

Show on map

Section (S1) - Storage Area

Easy

1 Neuro-stun Grenade - On the southern shelves of the south west passage of this section.

View location

|

Show on map

Section (S1) - Storage Area

Normal

1 Neuro-stun Grenade - On the southern shelves of the south west passage of this section.

View location

|

Show on map

Section (S1) - Storage Area

Professional

1 Neuro-stun Grenade - On the southern shelves of the south west passage of this section.

View location

|

Show on map

Dead End - Mining Work Area

Easy

1 Neuro-stun Grenade - On the barrel in the south east corner of the end of the tunnel.

View location

|

Show on map

Dead End - Mining Work Area

Normal

1 Neuro-stun Grenade - On the barrel in the south east corner of the end of the tunnel.

View location

|

Show on map

Dead End - Mining Work Area

Professional

1 Neuro-stun Grenade - On the barrel in the south east corner of the end of the tunnel.

View location

|

Show on map

There are no locations to show for this game mode. The following game modes are applicable: