Lock Pick
(Resident Evil 7 Biohazard - Not a Hero)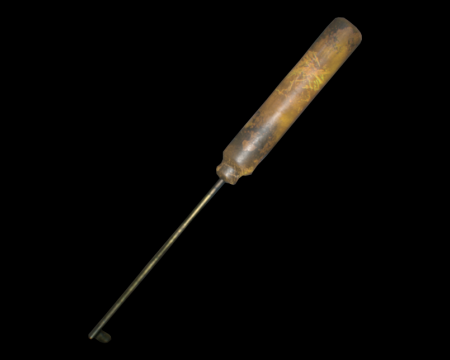 A tool for opening simple locks. Breaks easily.
A picking tool capable of unlocking simple locks. The tool is fragile and can only unlock a single lock before breaking.
You can use the lock picks in the following places:
In Easy and Normal modes:
In Professional mode:
Use on the container located on the platform in the south west corner of the Central Cavern.

| | |
| --- | --- |
| Category | Item (Object, tool or key) |
Location
Section (S1) - Storage Area

Easy

On the small paint bucket at the end of the south west passage of this section.

View location

|

Show on map

Section (S1) - Storage Area

Normal

On the small paint bucket at the end of the south west passage of this section.

View location

|

Show on map

Holding Yard - Mine Cart Yard

Professional

On the barrel in the southern area, accessible after using the mine cart to break through the barrier.

View location

|

Show on map

Clinical Lab - Research Facility

Easy

Inside one of the bowls attached to the operating table on the western half of the room.

View location

|

Show on map

Clinical Lab - Research Facility

Normal

Inside one of the bowls attached to the operating table on the western half of the room.

View location

|

Show on map

There are no locations to show for this mode. The following modes are applicable: