Riot Gun
(Resident Evil 4)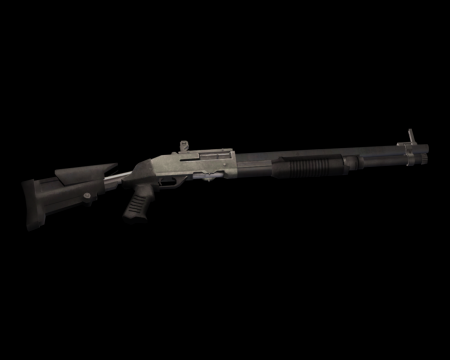 A light-weight pump-action shotgun. Its superior handling enables quicker aiming.
The Riot Gun is slightly superior to the basic
Shotgun
in all respects. The figures only diverge greatly when it comes to the exclusive upgrade - firepower. The final tuning level of the Riot Gun is three times as expensive as that of the
Shotgun
. Nevertheless, if you want a shotgun with convincing performance at close and long ranges, the Riot Gun is your weapon. This weapon uses
Shotgun Shells
.
| | |
| --- | --- |
| Category | Weaponry (Weapon) |
| Buy price | 32,000 pesetas |
| Sell price | 15,160 pesetas |
Attributes and upgrades
Firepower

Value

5.0/2.0

5.5/2.3

6.0/2.5

6.5/3.3

7.0/3.5

8.0/4/0

Price

-

20,000

24,000

28,000

32,000

50,000
Firing speed

Value

1.53

Price

-
Reload speed

Value

3.03

2.43

1.67

Price

-

7,000

20,000
Capacity

Value

7

9

11

13

15

17

Price

-

10,000

12,000

15,000

20,000

25,000
Exclusive upgrade: Raises firepower to 10.0/8.0. Price: 120,000 pesetas
Location
Chapter 3-1 onwards

Normal

Chapter 3-1 onwards

Professional

There are no locations to show for this mode. The following modes are applicable: