Report on the Mansion Incident
(Resident Evil 3 Remake)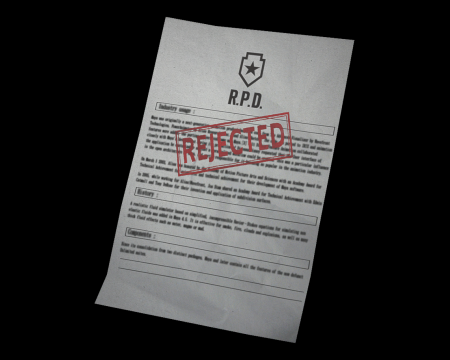 | | |
| --- | --- |
| Category | File (Police Station) |
Transcript
This bizarre incident occurred in a mansion owned by the Umbrella Corporation located in the Arklay Mountains.

On July 23, S.T.A.R.S. Bravo Team was dispatched to the Arklay Mountains to investigate a series of mysterious and grisly murders, and went unexpectedly radio silent.
On July 24, Alpha Team was dispatched as well, and became entangled in the events at the nearby mansion.

The incident culminated in the destruction of the mansion. Casualties were numerous. The only survivors were five members of S.T.A.R.S. The cause of the incident was the illegal bioweapon experiments being carried out in a secret Umbrella lab beneath the mansion. The T-Virus being used in these experiments escaped the facility, and is presumed to be the root cause of all that occurred.

However, all evidence was destroyed along with the mansion, so further investigation has proven to be extremely difficult.
Location
S.T.A.R.S. Office - Police Station 2F

Assisted

On the desk inside the smaller office in the north west area of the room.

View location

|

Show on map

S.T.A.R.S. Office - Police Station 2F

Standard

On the desk inside the smaller office in the north west area of the room.

View location

|

Show on map

S.T.A.R.S. Office - Police Station 2F

Hardcore

On the desk inside the smaller office in the north west area of the room.

View location

|

Show on map

S.T.A.R.S. Office - Police Station 2F

Nightmare

On the desk inside the smaller office in the north west area of the room.

View location

|

Show on map

S.T.A.R.S. Office - Police Station 2F

Inferno

On the desk inside the smaller office in the north west area of the room.

View location

|

Show on map

There are no locations to show for this mode. The following modes are applicable: