RE: Lost Items
(Resident Evil 3 Remake)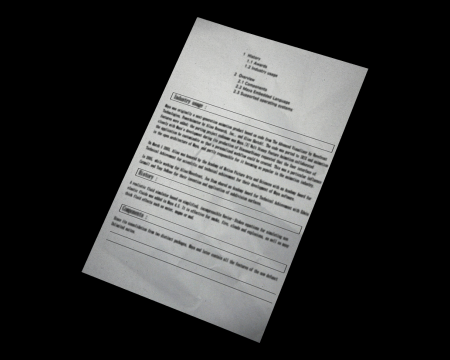 Transcript
To all employees:

We've been inundated with reports of lost items. If you find something and it is unclear who it belongs to, do not take it home. Please deposit it in the

Nurses Station safe

.

The safe combination is:

9 clockwise, 3 counterclockwise.

Thank you for your cooperation.
Location
Operating Room - Hospital 1F

Assisted

On the medical unit at the head of the operating bed in the middle of the room.

View location

|

Show on map

Operating Room - Hospital 1F

Standard

On the medical unit at the head of the operating bed in the middle of the room.

View location

|

Show on map

Operating Room - Hospital 1F

Hardcore

On the medical unit at the head of the operating bed in the middle of the room.

View location

|

Show on map

Operating Room - Hospital 1F

Nightmare

On the medical unit at the head of the operating bed in the middle of the room.

View location

|

Show on map

Operating Room - Hospital 1F

Inferno

On the medical unit at the head of the operating bed in the middle of the room.

View location

|

Show on map

There are no locations to show for this mode. The following modes are applicable: