Jill's Report
(Resident Evil 3 Remake)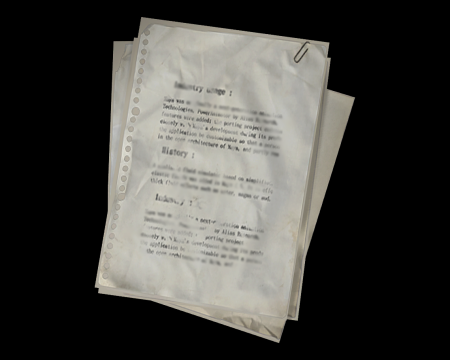 | | |
| --- | --- |
| Category | File (Apartment Building) |
Transcript
September 26, 1998

It's already been two months since that mess with Umbrella. Thanks to the suspension, investigations haven't progressed exactly as I'd hoped. Perhaps this written record of what I've found will prove to be my final duty as a S.T.A.R.S. officer... I can only hope that it helps lead to the truth.

The T-Virus

Those infected by this virus seem to become literal zombies. It appears to be communicable via several different avenues, outlined below:

Bite from an infected individual, allowing the mixing of bodily fluids

Contact with crows which have eaten infected carrion

Due to the strength of the virus, airborne infection cannot be discounted


It should be noted that those who survived the incident have not yet developed symptoms.

It's unclear whether this is because the virus has a long incubation period, or because we just happened to be resistant to the infection. We ought to remain vigilant, even after this investigation period ends.

As for me—aside from my minor difficulties sleeping—I seem to be in fine shape. Still, I shouldn't get too hopeful. After all, this could just be an extended incubation.
Location
Apartment Building

Assisted

Inside

Jill's

apartment, on the large white pegboard on the wall. You need to switch the light on to see it.

Apartment Building

Standard

Inside

Jill's

apartment, on the large white pegboard on the wall. You need to switch the light on to see it.

Apartment Building

Hardcore

Inside

Jill's

apartment, on the large white pegboard on the wall. You need to switch the light on to see it.

Apartment Building

Nightmare

Inside

Jill's

apartment, on the large white pegboard on the wall. You need to switch the light on to see it.

Apartment Building

Inferno

Inside

Jill's

apartment, on the large white pegboard on the wall. You need to switch the light on to see it.

There are no locations to show for this mode. The following modes are applicable: