EMF Visualizer
(Resident Evil 2 Remake)
A device capable of detecting and projecting EM fields onto walls in real time, it can also be used to remotely control some electronics.
| | |
| --- | --- |
| Category | Miscellaneous object |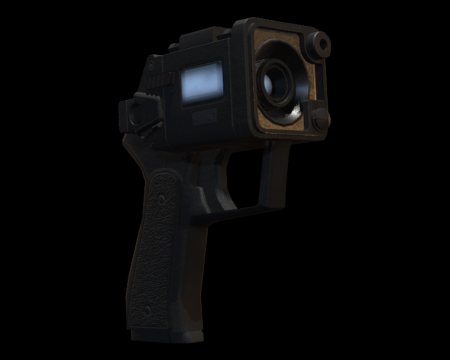 This device is an electronic systems hacking device. It allows the user to discover power relays for large electronically powered devices, and once discovered you can activate them and overload their electricity supply.
Location
Ada's Inventory

Leon (Standard)

Available within her inventory after examining the ladder in front of the ventilation fan in the 'T' Junction area when you take control of her.

Ada's Inventory

Leon [2nd] (Standard)

Available within her inventory after examining the ladder in front of the ventilation fan in the 'T' Junction area when you take control of her.

Ada's Inventory

Leon (Hardcore)

Available within her inventory after examining the ladder in front of the ventilation fan in the 'T' Junction area when you take control of her.

Ada's Inventory

Leon [2nd] (Hardcore)

Available within her inventory after examining the ladder in front of the ventilation fan in the 'T' Junction area when you take control of her.

There are no locations to show for this mode. The following modes are applicable: