Vacant Room - Mansion 1F
(Resident Evil)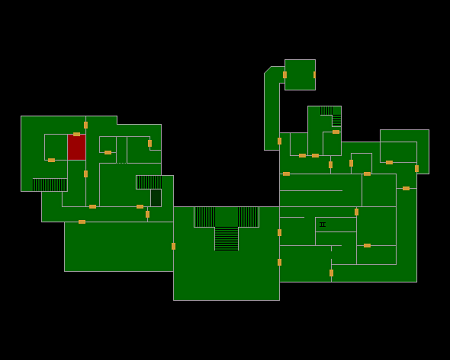 A small room with nothing in it except a wardrobe cabinet and a small desk. There is nothing to do in this room except search what little furniture it contains.
To access this room you need the
Armor Key
.
This place is linked to the following locations:
West Stairway 1F
.
Contents
Broken Shotgun

Jill (Deadly Silence Rebirth)

In the cupboard in the north east corner of the room.

View detail

|

Show on map

Broken Shotgun

Chris (Deadly Silence Rebirth)

In the cupboard in the north east corner of the room.

View detail

|

Show on map

Clip (1×15)

Jill (Deadly Silence Rebirth)

On the shelf of the cupboard next to the door.

View detail

|

Show on map

Clip (1×15)

Chris (Deadly Silence Rebirth)

On the shelf of the cupboard next to the door.

View detail

|

Show on map

Shells (1×7)

Jill (Arranged / Advanced)

Inside the locked desk draw in the south west corner of the room. Chris requires a

Desk Key

to unlock it.

View detail

|

Show on map

Shells (1×7)

Jill (Deadly Silence Rebirth)

Inside the locked desk draw in the south west corner of the room. Chris requires a

Desk Key

to unlock it.

View detail

|

Show on map

Shells (1×7)

Chris (Arranged / Advanced)

Inside the locked desk draw in the south west corner of the room. Chris requires a

Desk Key

to unlock it.

View detail

|

Show on map

Shells (1×7)

Chris (Deadly Silence Rebirth)

Inside the locked desk draw in the south west corner of the room. Chris requires a

Desk Key

to unlock it.

View detail

|

Show on map

There are no contents to show for this game mode. The following game modes are applicable: