MO Disk
(Resident Evil)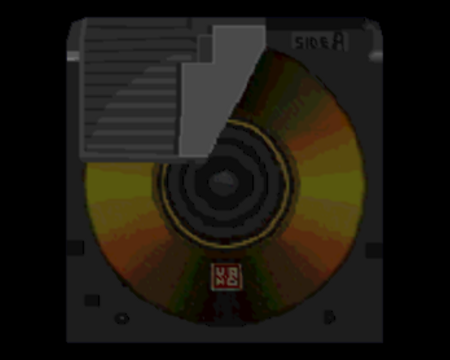 It seems to be a startup disk.
A thin plastic case containing a magneto-optical disk.
Inside the
Underground Laboratory
there are three
MO Disk Terminals
. If you use these disks on each of these terminals you will acquire a unique pass code required for releasing the security lock to access the
Cell Entry
area, which is needed in order to save your partner from the
Cell
.
| | |
| --- | --- |
| Category | Item (Object, tool or key) |
Location
Private Library - Mansion 2F

Jill

Inside the secret area behind the bookcase. You need to push the statue into the north west corner of the room to reveal the secret area.

View location

|

Show on map

Private Library - Mansion 2F

Chris

Inside the secret area behind the bookcase. You need to push the statue into the north west corner of the room to reveal the secret area.

View location

|

Show on map

Courtyard Study - Mansion 1F

Jill (Arranged/Advanced)

On the bookshelf next to the door. You need to switch on the lamp to acquire it.

View location

|

Show on map

Courtyard Study - Mansion 1F

Jill (Deadly Silence Rebirth)

On the bookshelf next to the door. You need to switch on the lamp to acquire it.

View location

|

Show on map

Courtyard Study - Mansion 1F

Chris (Arranged/Advanced)

On the bookshelf next to the door. You need to switch on the lamp to acquire it.

View location

|

Show on map

Courtyard Study - Mansion 1F

Chris (Deadly Silence Rebirth)

On the bookshelf next to the door. You need to switch on the lamp to acquire it.

View location

|

Show on map

Boulder Passage 2 - Underground

Jill (Deadly Silence Rebirth)

In the small alcove behind where the boulder used to be.

View location

|

Show on map

Boulder Passage 2 - Underground

Chris (Deadly Silence Rebirth)

In the small alcove behind where the boulder used to be.

View location

|

Show on map

Visual Data Room - Laboratory B2

Jill (Arranged/Advanced)

On the hidden shelf behind the pillar. Push the button behind the panel on the eastern wall to reveal.

View location

|

Show on map

Visual Data Room - Laboratory B2

Chris (Arranged/Advanced)

On the hidden shelf behind the pillar. Push the button behind the panel on the eastern wall to reveal.

View location

|

Show on map

There are no locations to show for this mode. The following modes are applicable: