Leech Charm
(Resident Evil Zero - Leech Hunter)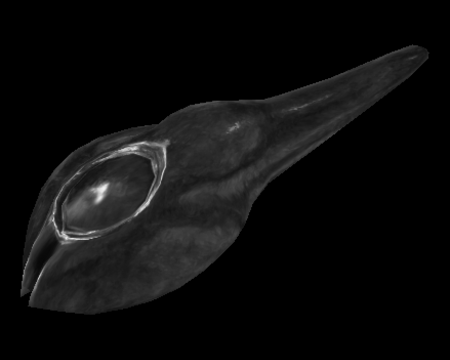 These are the most important items in the Leech Hunter mini-game. The are scattered throughout the
Training Facility
and all must be collected to receive the best prizes.
There are two types of Leech Charm available - blue ones and green ones. Blue ones can only be picked up by Billy, and green ones by Rebecca. However, once you pick up a Leech Charm, you cannot drop it again.
There are a total of 100 Leech Charms available, 50 blue and 50 green, and you can only hold a maximum of 10 Leech Charms inside a single inventory slot.
Location
Train Passage - Training Facility B1

Variant 2

1 Leech Charm - On the ground in the middle of the room.

View location

|

Show on map

Train Passage - Training Facility B1

Variant 3

2 Leech Charms - On the ground in the middle of the room.

View location

|

Show on map

Train Passage - Training Facility B1

Variant 1

1 Leech Charm - On the ground next to the fire in the north west corner.

View location

|

Show on map

Main Hall - Training Facility 1F

Variant 1

2 Leech Charms - On the chairs in the north east corner of the room.

View location

|

Show on map

Main Hall - Training Facility 1F

Variant 2

2 Leech Charms - On the chairs in the north east corner of the room.

View location

|

Show on map

Main Hall - Training Facility 1F

Variant 3

1 Leech Charm - On one of the chairs in the north east corner of the room.

1 Leech Charm - On the landing area of the main stairs.

View location

|

Show on map

Dining Room - Training Facility 1F

Variant 1

1 Leech Charm - On the underside of the ledge of the kitchen serving hatch.

1 Leech Charm - On the table in the south west corner of the room.

View location

|

Show on map

Dining Room - Training Facility 1F

Variant 2

1 Leech Charm - On the underside of the ledge of the kitchen serving hatch.

1 Leech Charm - On the table in the south west corner of the room.

View location

|

Show on map

Dining Room - Training Facility 1F

Variant 3

1 Leech Charm - On the underside of the ledge of the kitchen serving hatch.

1 Leech Charm - On the table in the south west corner of the room.

1 Leech Charm -

Inside the collapsed sweet trolley near the door to the

Boiler Room

.

View location

|

Show on map

Kitchen - Training Facility 1F

Variant 3

1 Leech Charm - On the bench nearest to the door.

2 Leech Charms - In one of the sinks on the west side of the room.

1 Leech Charm - On the floor between the two benches in the middle of the room.

1 Leech Charm - On the second bench in the middle of the room.

2 Leech Charms - On the cooker at the back of the room.

View location

|

Show on map

Kitchen - Training Facility 1F

Variant 1

1 Leech Charm - In one of the sinks on the west side of the room.

1 Leech Charm - On the floor between the sinks and the first bench in the middle of the room.

1 Leech Charm - Underneath the second bench in the middle of the room.

1 Leech Charm - On the floor between the two benches in the middle of the room.

1 Leech Charm - On the second bench in the middle of the room.

2 Leech Charms - On the cooker at the back of the room.

View location

|

Show on map

Kitchen - Training Facility 1F

Variant 2

1 Leech Charm - In one of the sinks on the west side of the room.

1 Leech Charm - On the floor between the sinks and the first bench in the middle of the room.

1 Leech Charm - Underneath the second bench in the middle of the room.

1 Leech Charm - On the floor between the two benches in the middle of the room.

1 Leech Charm - On the second bench in the middle of the room.

2 Leech Charms - On the cooker at the back of the room.

View location

|

Show on map

Boiler Room - Training Facility 1F

Variant 1

1 Leech Charm - On the floor next to the boiler in the mid-section.

View location

|

Show on map

Boiler Room - Training Facility 1F

Variant 2

1 Leech Charm - On the floor next to the boiler in the mid-section.

View location

|

Show on map

Boiler Room - Training Facility 1F

Variant 3

1 Leech Charm - On the floor next to the boiler in the mid-section.

View location

|

Show on map

Storage Room - Training Facility 1F

Variant 1

1 Leech Charm - On the floor in the south west corner of the room.

View location

|

Show on map

Storage Room - Training Facility 1F

Variant 2

1 Leech Charm - On the floor in the south west corner of the room.

View location

|

Show on map

Storage Room - Training Facility 1F

Variant 3

1 Leech Charm - On the floor in the south west corner of the room.

1 Leech Charm - On the floor next to the shelves on the west side of the room.

View location

|

Show on map

Outside Balcony - Training Facility 2F

Variant 1

1 Leech Charm - On the ground in the north east corner of the balcony.

2 Leech Charms - On the baluster in the north eastern corner of the balcony.

1 Leech Charm - On the ground in the north western area of the balcony.

1 Leech Charm - On the ground in the north west corner of the balcony.

1 Leech Charm - On the baluster in the north west corner of the balcony.

View location

|

Show on map

Outside Balcony - Training Facility 2F

Variant 2

1 Leech Charm - On the ground in the north east corner of the balcony.

2 Leech Charms - On the baluster in the north eastern corner of the balcony.

1 Leech Charm - On the ground in the north western area of the balcony.

1 Leech Charm - On the ground in the north west corner of the balcony.

1 Leech Charm - On the baluster in the north west corner of the balcony.

View location

|

Show on map

Outside Balcony - Training Facility 2F

Variant 3

1 Leech Charm - On the ground in the north east corner of the balcony.

2 Leech Charms - On the baluster in the north eastern corner of the balcony.

1 Leech Charm - On the ground in the north western area of the balcony.

1 Leech Charm - On the ground in the north west corner of the balcony.

1 Leech Charm - On the baluster in the north west corner of the balcony.

View location

|

Show on map

Lecture Room - Training Facility 2F

Variant 1

1 Leech Charm - On the ground next to the scoffolding on the west side of the room.

1 Leech Charm - On the eastern steps inside the central seating area.

1 Leech Charm - On the ground in front of the western back row of desks in the central seating area.

1 Leech Charm - On the podium at the front of the room.

View location

|

Show on map

Lecture Room - Training Facility 2F

Variant 2

1 Leech Charm - On the ground next to the scoffolding on the west side of the room.

1 Leech Charm - On the eastern steps inside the central seating area.

1 Leech Charm - On the ground in front of the western back row of desks in the central seating area.

1 Leech Charm - On the podium at the front of the room.

View location

|

Show on map

Lecture Room - Training Facility 2F

Variant 3

1 Leech Charm - On the ground next to the scoffolding on the west side of the room.

1 Leech Charm - On the eastern steps inside the central seating area.

1 Leech Charm - On the ground in front of the western back row of desks in the central seating area.

1 Leech Charm - On the podium at the front of the room.

View location

|

Show on map

Private Corridor - Training Facility 2F

Variant 1

2 Leech Charms - On the floor in the east side of the corridor.

2 Leech Charms - On the floor in the middle of the corridor.

1 Leech Charm - On the floor in the west side of the corridor.

View location

|

Show on map

Private Corridor - Training Facility 2F

Variant 2

2 Leech Charms - On the floor in the east side of the corridor.

2 Leech Charms - On the floor in the middle of the corridor.

1 Leech Charm - On the floor in the west side of the corridor.

View location

|

Show on map

Private Corridor - Training Facility 2F

Variant 3

2 Leech Charms - On the floor in the east side of the corridor.

1 Leech Charm - On the floor in the middle of the corridor.

1 Leech Charm - On the floor in the west side of the corridor.

View location

|

Show on map

Medicine Room - Training Facility 2F

Variant 1

1 Leech Charm - On the bed second closest to the door.

View location

|

Show on map

Medicine Room - Training Facility 2F

Variant 2

1 Leech Charm - On the bed second closest to the door.

View location

|

Show on map

Medicine Room - Training Facility 2F

Variant 3

1 Leech Charm - On the bed second closest to the door.

View location

|

Show on map

Art Corridor - Training Facility 2F

Variant 1

4 Leech Charms - On the floor in the eastern half of the corridor.

3 Leech Charms - On the floor in the western half of the corridor.

View location

|

Show on map

Art Corridor - Training Facility 2F

Variant 2

4 Leech Charms - On the floor in the eastern half of the corridor.

3 Leech Charms - On the floor in the western half of the corridor.

View location

|

Show on map

Art Corridor - Training Facility 2F

Variant 3

3 Leech Charms - On the floor in the eastern half of the corridor.

2 Leech Charms - On the floor in the western half of the corridor.

View location

|

Show on map

Assistant Director's Office - Training Facility 2F

Variant 1

1 Leech Charm - On the wall in the north west corner of the room.

3 Leech Charms - On the fireplace hearth on the west side of the room.

View location

|

Show on map

Assistant Director's Office - Training Facility 2F

Variant 2

1 Leech Charm - On the wall in the north west corner of the room.

3 Leech Charms - On the fireplace hearth on the west side of the room.

View location

|

Show on map

Assistant Director's Office - Training Facility 2F

Variant 3

1 Leech Charm - On the wall in the north west corner of the room.

3 Leech Charms - On the fireplace hearth on the west side of the room.

View location

|

Show on map

Main Library - Training Facility 2F

Variant 1

1 Leech Charm - On the chair opposite the double doors to the Art Corridor.

1 Leech Charm - On the floor next to the chair in the north east corner of the room.

1 Leech Charm - On the floor of the small lift in the south east corner of the room.

1 Leech Charm - On the desk next to the computers in the south west corner of the room.

View location

|

Show on map

Main Library - Training Facility 2F

Variant 2

1 Leech Charm - On the chair opposite the double doors to the Art Corridor.

1 Leech Charm - On the floor next to the chair in the north east corner of the room.

1 Leech Charm - On the floor of the small lift in the south east corner of the room.

1 Leech Charm - On the desk next to the computers in the south west corner of the room.

View location

|

Show on map

Main Library - Training Facility 2F

Variant 3

1 Leech Charm - On the chair opposite the double doors to the Art Corridor.

1 Leech Charm - On the floor next to the chair in the north east corner of the room.

1 Leech Charm - On the floor of the small lift in the south east corner of the room.

1 Leech Charm - On the desk next to the computers in the south west corner of the room.

View location

|

Show on map

Small Library - Training Facility 2F

Variant 1

2 Leech Charms - On the floor of the raised area, in front of the moveable bookcase.

1 Leech Charm - In the compartment behind the movable bookcase in the raised area. You need to use Billy to move the bookcase.

View location

|

Show on map

Small Library - Training Facility 2F

Variant 2

2 Leech Charms - On the floor of the raised area, in front of the moveable bookcase.

1 Leech Charm - In the compartment behind the movable bookcase in the raised area. You need to use Billy to move the bookcase.

View location

|

Show on map

Small Library - Training Facility 2F

Variant 3

2 Leech Charms - On the floor of the raised area, in front of the moveable bookcase.

View location

|

Show on map

Main Hall - Training Facility 2F

Variant 3

1 Leech Charm - On the balustrade on the southern balcony.

View location

|

Show on map

Private Study Room - Training Facility 2F

Variant 1

1 Leech Charm - On the mantelpiece above the fireplace.

3 Leech Charms - On the floor in the south east corner of the room.

View location

|

Show on map

Private Study Room - Training Facility 2F

Variant 2

1 Leech Charm - On the mantelpiece above the fireplace.

3 Leech Charms - On the floor in the south east corner of the room.

View location

|

Show on map

Private Study Room - Training Facility 2F

Variant 3

1 Leech Charm - On the mantelpiece above the fireplace.

2 Leech Charms - On the floor in the south east corner of the room.

View location

|

Show on map

Living Room - Training Facility 2F

Variant 1

1 Leech Charm - Inside the small cupboard next to the windows.

1 Leech Charm - On the branches of the small tree next to the sofa.

View location

|

Show on map

Living Room - Training Facility 2F

Variant 2

1 Leech Charm - Inside the small cupboard next to the windows.

1 Leech Charm - On the branches of the small tree next to the sofa.

View location

|

Show on map

Living Room - Training Facility 2F

Variant 3

1 Leech Charm - Inside the small cupboard next to the windows.

1 Leech Charm - On the branches of the small tree next to the sofa.

View location

|

Show on map

Piano Bar - Training Facility 2F

Variant 1

1 Leech Charm - On the floor near the piano.

1 Leech Charm - On the floor next to the entrance to the wine room.

1 Leech Charm - On the floor inside the wine room.

View location

|

Show on map

Piano Bar - Training Facility 2F

Variant 2

1 Leech Charm - On the floor near the piano.

1 Leech Charm - On the floor next to the entrance to the wine room.

1 Leech Charm - On the floor inside the wine room.

View location

|

Show on map

Piano Bar - Training Facility 2F

Variant 3

1 Leech Charm - On the floor near the piano.

2 Leech Charms - On the floor next to the entrance to the wine room.

1 Leech Charm - On the floor inside the wine room.

View location

|

Show on map

Maintenance Room - Training Facility 2F

Variant 1

1 Leech Charm - On the corner of the table in the north west area of the room.

1 Leech Charm - On the northern wall.

2 Leech Charms - On the bench between the vices in the south east corner of the room.

View location

|

Show on map

Maintenance Room - Training Facility 2F

Variant 2

1 Leech Charm - On the corner of the table in the north west area of the room.

1 Leech Charm - On the northern wall.

2 Leech Charms - On the bench between the vices in the south east corner of the room.

View location

|

Show on map

Maintenance Room - Training Facility 2F

Variant 3

1 Leech Charm - On the corner of the table in the north west area of the room.

1 Leech Charm - On the northern wall.

1 Leech Charm - On the bench between the vices in the south east corner of the room.

View location

|

Show on map

Old Laboratory - Training Facility 2F

Variant 1

2 Leech Charms - On the floor of the small glass room.

View location

|

Show on map

Old Laboratory - Training Facility 2F

Variant 2

2 Leech Charms - On the floor of the small glass room.

View location

|

Show on map

Large Hall - Training Facility 3F

Variant 1

2 Leech Charms - On the floor near the southern door.

View location

|

Show on map

Large Hall - Training Facility 3F

Variant 2

2 Leech Charms - On the floor near the southern door.

View location

|

Show on map

Large Hall - Training Facility 3F

Variant 3

1 Leech Charm - On the floor next to the pit on the west side of the room.

3 Leech Charms - On the floor near the southern door.

View location

|

Show on map

Observatory Tower - Training Facility 3F

Variant 3

1 Leech Charm - On the floor of the upper area.

1 Leech Charm - On top of the technical equipment next to the ladder in the lower area.

1 Leech Charm - On the floor on the sourthern side of the lower area.

2 Leech Charms - On the floor in the lower area, in front of the main control panel.

View location

|

Show on map

Observatory Tower - Training Facility 3F

Variant 1

1 Leech Charm - On top of the technical equipment next to the ladder in the lower area.

1 Leech Charm - On the floor on the sourthern side of the lower area.

2 Leech Charms - On the floor in the lower area, in front of the main control panel.

View location

|

Show on map

Observatory Tower - Training Facility 3F

Variant 2

1 Leech Charm - On top of the technical equipment next to the ladder in the lower area.

1 Leech Charm - On the floor on the sourthern side of the lower area.

2 Leech Charms - On the floor in the lower area, in front of the main control panel.

View location

|

Show on map

Basement Entrance - Facility Basement B1

Variant 1

2 Leech Charms - On the floor in the southern corner of the passage.

1 Leech Charm - On the floor in the northern corner of the passage.

View location

|

Show on map

Basement Entrance - Facility Basement B1

Variant 2

2 Leech Charms - On the floor in the southern corner of the passage.

1 Leech Charm - On the floor in the northern corner of the passage.

View location

|

Show on map

Basement Entrance - Facility Basement B1

Variant 3

2 Leech Charms - On the floor in the southern corner of the passage.

1 Leech Charm - On the floor in the northern corner of the passage.

View location

|

Show on map

Torture Room B - Facility Basement B1

Variant 1

1 Leech Charm - On the floor in the middle of the room.

1 Leech Charm - On the floor in the north west corner.

View location

|

Show on map

Torture Room B - Facility Basement B1

Variant 2

1 Leech Charm - On the floor in the middle of the room.

1 Leech Charm - On the floor in the north west corner.

View location

|

Show on map

Torture Room B - Facility Basement B1

Variant 3

1 Leech Charm - On the floor in the middle of the room.

1 Leech Charm - On the floor in the north west corner.

View location

|

Show on map

Torture Room A - Facility Basement B1

Variant 1

2 Leech Charms - On the floor next to the central pillar.

View location

|

Show on map

Torture Room A - Facility Basement B1

Variant 2

1 Leech Charm - On the floor next to the central pillar.

View location

|

Show on map

Torture Room A - Facility Basement B1

Variant 3

2 Leech Charms - On the floor next to the central pillar.

View location

|

Show on map

Bunk Room A - Facility Basement B2

Variant 1

1 Leech Charm - On the floor in the middle of the room.

1 Leech Charm - Underneath the bed.

1 Leech Charm - On the mantelpiece on the west side of the room.

View location

|

Show on map

Bunk Room A - Facility Basement B2

Variant 2

1 Leech Charm - On the floor in the middle of the room.

1 Leech Charm - Underneath the bed.

1 Leech Charm - On the mantelpiece on the west side of the room.

View location

|

Show on map

Bunk Room A - Facility Basement B2

Variant 3

1 Leech Charm - On the floor in the middle of the room.

1 Leech Charm - Underneath the bed.

1 Leech Charm - On the mantelpiece on the west side of the room.

View location

|

Show on map

Bunk Room B - Facility Basement B2

Variant 1

2 Leech Charms - On the bunk-beds at the back of the room.

View location

|

Show on map

Bunk Room B - Facility Basement B2

Variant 2

2 Leech Charms - On the bunk-beds at the back of the room.

View location

|

Show on map

Bunk Room B - Facility Basement B2

Variant 3

2 Leech Charms - On the bunk-beds at the back of the room.

View location

|

Show on map

Storage Room - Facility Basement B2

Variant 1

2 Leech Charms - On the floor.

1 Leech Charm - On the edge of the large wooden crates.

View location

|

Show on map

Storage Room - Facility Basement B2

Variant 2

2 Leech Charms - On the floor.

1 Leech Charm - On the edge of the large wooden crates.

View location

|

Show on map

Storage Room - Facility Basement B2

Variant 3

2 Leech Charms - On the floor.

1 Leech Charm - On the edge of the large wooden crates.

View location

|

Show on map

Waterfall Room - Facility Basement B3

Variant 2

2 Leech Charms - On the floor near the door.

1 Leech Charm - On the floor in the middle of the room.

View location

|

Show on map

Waterfall Room - Facility Basement B3

Variant 3

2 Leech Charms - On the floor near the door.

1 Leech Charm - On the floor in the middle of the room.

View location

|

Show on map

Training Room - Facility Basement B3

Variant 1

1 Leech Charm - Underneath the bench in the north west corner of the upstairs control room.

View location

|

Show on map

Training Room - Facility Basement B3

Variant 2

1 Leech Charm - Underneath the bench in the north west corner of the upstairs control room.

View location

|

Show on map

Training Room - Facility Basement B3

Variant 3

1 Leech Charm - Underneath the bench in the north west corner of the upstairs control room.

View location

|

Show on map