Blue Herb
(Resident Evil Remake)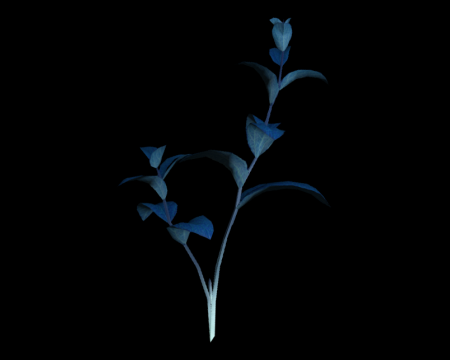 An herb that grows wild in this region.
One of three different herbs found growing in pots around the Mansion and surrounding area.
This herb can be used to neutralize the effect of (almost) any poison, making it very useful after encountering venomous enemies such as
Adders
and
Plant 42
. It can be used on its own, or combined with a
Green Herb
to increase its healing effect.
It's worth noting however that this herb cannot cure the poison from
Yawn's
venom. You need to use the
Serum
to neutralize that type of poison.
| | |
| --- | --- |
| Category | Item (Recovery item) |
Statistics
| Game mode | Sum total |
| --- | --- |
| Jill (Very Easy) | 9 |
| Chris (Very Easy) | 9 |
| Jill (Easy) | 9 |
| Chris (Easy) | 9 |
| Jill (Normal) | 8 |
| Chris (Normal) | 8 |
| Jill (Hard) | 4 |
| Chris (Hard) | 4 |
Location
Main Garden - Courtyard 1F

Jill (Very Easy)

1 Blue Herb - On the ground near the small fountain.

View location

|

Show on map

Main Garden - Courtyard 1F

Chris (Very Easy)

1 Blue Herb - On the ground near the small fountain.

View location

|

Show on map

Falls Area - Courtyard 1F

Jill (Very Easy)

Blue Herbs - Growing in a plant trough next to the north east elevator. You cannot take these herbs with you, but there are enough of them for three uses.

View location

|

Show on map

Falls Area - Courtyard 1F

Chris (Very Easy)

Blue Herbs - Growing in a plant trough next to the north east elevator. You cannot take these herbs with you, but there are enough of them for three uses.

View location

|

Show on map

Falls Area - Courtyard 1F

Jill (Easy)

Blue Herbs - Growing in a plant trough next to the north east elevator. You cannot take these herbs with you, but there are enough of them for three uses.

View location

|

Show on map

Falls Area - Courtyard 1F

Chris (Easy)

Blue Herbs - Growing in a plant trough next to the north east elevator. You cannot take these herbs with you, but there are enough of them for three uses.

View location

|

Show on map

Entry Corridor - Residence 1F

Jill (Very Easy)

3 Blue Herbs - In the alcove opposite entrance door.

View location

|

Show on map

Entry Corridor - Residence 1F

Chris (Very Easy)

3 Blue Herbs - In the alcove opposite entrance door.

View location

|

Show on map

Entry Corridor - Residence 1F

Chris (Easy)

3 Blue Herbs - In the alcove opposite entrance door.

View location

|

Show on map

Entry Corridor - Residence 1F

Jill (Normal)

3 Blue Herbs - In the alcove opposite entrance door.

View location

|

Show on map

Entry Corridor - Residence 1F

Chris (Normal)

3 Blue Herbs - In the alcove opposite entrance door.

View location

|

Show on map

Mirror Room - Mansion 1F

Jill (Very Easy)

Blue Herbs - Growing in a plant trough in the corner of the room. You cannot take the herbs with you, but there are enough of them for three uses.

View location

|

Show on map

Mirror Room - Mansion 1F

Chris (Very Easy)

Blue Herbs - Growing in a plant trough in the corner of the room. You cannot take the herbs with you, but there are enough of them for three uses.

View location

|

Show on map

Mirror Room - Mansion 1F

Jill (Easy)

Blue Herbs - Growing in a plant trough in the corner of the room. You cannot take the herbs with you, but there are enough of them for three uses.

View location

|

Show on map

Mirror Room - Mansion 1F

Chris (Easy)

Blue Herbs - Growing in a plant trough in the corner of the room. You cannot take the herbs with you, but there are enough of them for three uses.

View location

|

Show on map

Mirror Room - Mansion 1F

Jill (Normal)

Blue Herbs - Growing in a plant trough in the corner of the room. You cannot take the herbs with you, but there are enough of them for three uses.

View location

|

Show on map

Mirror Room - Mansion 1F

Chris (Normal)

Blue Herbs - Growing in a plant trough in the corner of the room. You cannot take the herbs with you, but there are enough of them for three uses.

View location

|

Show on map

Mirror Room - Mansion 1F

Jill (Hard)

Blue Herbs - Growing in a plant trough in the corner of the room. You cannot take the herbs with you, but there are enough of them for three uses.

View location

|

Show on map

Mirror Room - Mansion 1F

Chris (Hard)

Blue Herbs - Growing in a plant trough in the corner of the room. You cannot take the herbs with you, but there are enough of them for three uses.

View location

|

Show on map

Concrete Passage 2 - Mansion B1

Jill (Very Easy)

1 Blue Herb - On the floor in the corner opposite the southern entrance.

View location

|

Show on map

Concrete Passage 2 - Mansion B1

Chris (Very Easy)

1 Blue Herb - On the floor in the corner opposite the southern entrance.

View location

|

Show on map

Concrete Passage 2 - Mansion B1

Jill (Easy)

1 Blue Herb - On the floor in the corner opposite the southern entrance.

View location

|

Show on map

Concrete Passage 2 - Mansion B1

Chris (Easy)

1 Blue Herb - On the floor in the corner opposite the southern entrance.

View location

|

Show on map

Concrete Passage 2 - Mansion B1

Jill (Normal)

1 Blue Herb - On the floor in the corner opposite the southern entrance.

View location

|

Show on map

Concrete Passage 2 - Mansion B1

Chris (Normal)

1 Blue Herb - On the floor in the corner opposite the southern entrance.

View location

|

Show on map

Concrete Passage 2 - Mansion B1

Jill (Hard)

1 Blue Herb - On the floor in the corner opposite the southern entrance.

View location

|

Show on map

Concrete Passage 2 - Mansion B1

Chris (Hard)

1 Blue Herb - On the floor in the corner opposite the southern entrance.

View location

|

Show on map

Entrance Passage - Courtyard B1

Jill (Very Easy)

1 Blue Herb - On the ground near the entrance ladder.

View location

|

Show on map

Entrance Passage - Courtyard B1

Chris (Very Easy)

1 Blue Herb - On the ground near the entrance ladder.

View location

|

Show on map

Entrance Passage - Courtyard B1

Jill (Easy)

1 Blue Herb - On the ground near the entrance ladder.

View location

|

Show on map

Entrance Passage - Courtyard B1

Chris (Easy)

1 Blue Herb - On the ground near the entrance ladder.

View location

|

Show on map

Straight Passage - Courtyard B1

Jill (Very Easy)

2 Blue Herbs - On the ground at the east end of the passage.

View location

|

Show on map

Straight Passage - Courtyard B1

Chris (Very Easy)

2 Blue Herbs - On the ground at the east end of the passage.

View location

|

Show on map

Straight Passage - Courtyard B1

Jill (Easy)

2 Blue Herbs - On the ground at the east end of the passage.

View location

|

Show on map

Straight Passage - Courtyard B1

Chris (Easy)

2 Blue Herbs - On the ground at the east end of the passage.

View location

|

Show on map

Straight Passage - Courtyard B1

Jill (Normal)

2 Blue Herbs - On the ground at the east end of the passage.

View location

|

Show on map

Straight Passage - Courtyard B1

Chris (Normal)

2 Blue Herbs - On the ground at the east end of the passage.

View location

|

Show on map

Straight Passage - Courtyard B1

Jill (Hard)

1 Blue Herb - On the ground at the east end of the passage.

View location

|

Show on map

Straight Passage - Courtyard B1

Chris (Hard)

1 Blue Herb - On the ground at the east end of the passage.

View location

|

Show on map

Lisa's Room - Courtyard B2

Jill (Very Easy)

1 Blue Herb - Next to the water barrels in the upper area.

View location

|

Show on map

Lisa's Room - Courtyard B2

Chris (Very Easy)

1 Blue Herb - Next to the water barrels in the upper area.

View location

|

Show on map

Lisa's Room - Courtyard B2

Jill (Easy)

1 Blue Herb - Next to the water barrels in the upper area.

View location

|

Show on map

Lisa's Room - Courtyard B2

Chris (Easy)

1 Blue Herb - Next to the water barrels in the upper area.

View location

|

Show on map

Lisa's Room - Courtyard B2

Jill (Normal)

1 Blue Herb - Next to the water barrels in the upper area.

View location

|

Show on map

Lisa's Room - Courtyard B2

Chris (Normal)

1 Blue Herb - Next to the water barrels in the upper area.

View location

|

Show on map

Lisa's Room - Courtyard B2

Jill (Hard)

1 Blue Herb - Next to the water barrels in the upper area.

View location

|

Show on map

Lisa's Room - Courtyard B2

Chris (Hard)

1 Blue Herb - Next to the water barrels in the upper area.

View location

|

Show on map

There are no locations to show for this game mode. The following game modes are applicable: