Unicorn Medal
(Resident Evil Outbreak File #2)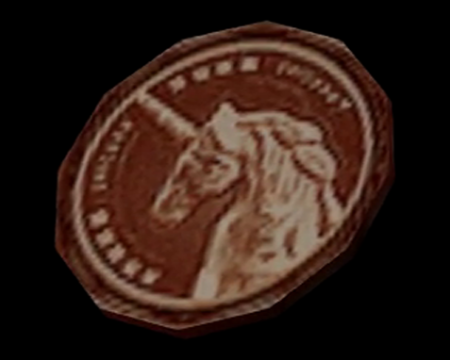 A medal with a picture of a unicorn etched onto it.
A golden metal depicted with an image of a unicorn.
This medal is used within the "Desperate Times" scenario. It can be used on the small round indentation below the picture in the south west end of the
hallway
in the
first floor of the police station
to reveal some hidden items.
| | |
| --- | --- |
| Category | Key item (Desperate Times) |
Location
Main Hall - Police station 1F

Easy

Placed inside the round indentation in front of the statue in the middle of the hall. Once you remove it, it will appear on the ledge next to the indentation for picking up.

View location

|

Show on map

Main Hall - Police station 1F

Normal

Placed inside the round indentation in front of the statue in the middle of the hall. Once you remove it, it will appear on the ledge next to the indentation for picking up.

View location

|

Show on map

Main Hall - Police station 1F

Hard

Placed inside the round indentation in front of the statue in the middle of the hall. Once you remove it, it will appear on the ledge next to the indentation for picking up.

View location

|

Show on map

Main Hall - Police station 1F

Very Hard

Placed inside the round indentation in front of the statue in the middle of the hall. Once you remove it, it will appear on the ledge next to the indentation for picking up.

View location

|

Show on map

There are no locations to show for this mode. The following modes are applicable: