Gas Neutralizing Canister
(Resident Evil Outbreak File #2)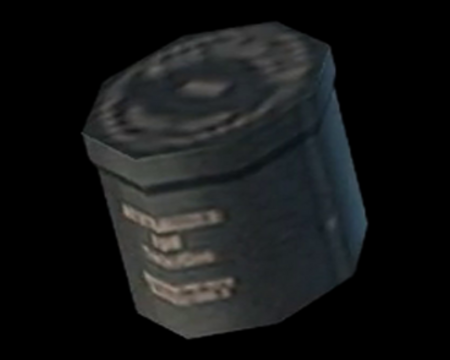 This item can rid an entire room of nerve gas.
A canister containing a compound that can neutralise a specific type of nerve gas.
This item can be used within the "Desperate Times" scenario. As you navigate the rooms of the
police station
you will inevitably find yourself and the room immersed in nerve gas as the station's defence system randomly activates itself. You can rid the room of this gas by using one of these canisters.
| | |
| --- | --- |
| Category | Key item (Desperate Times) |
Location
Main Hall - Police station 1F

Easy

2 × Gas Neutralizing Canister - On the bench opposite the emergency ladder on the north side of the room.

View location

|

Show on map

Main Hall - Police station 1F

Normal

1 × Gas Neutralizing Canister - On the bench opposite the emergency ladder on the north side of the room.

View location

|

Show on map

Hallway - Police station 1F

Hard

1 × Gas Neutralizing Canister -

In the secret alcove behind the picture on the wall at the south west end of the hallway. You need to use the

Unicorn Medal

on the small indentation below the picture to reveal the alcove.

View location

|

Show on map

Witness interrogation room - Police station 1F

Easy

1 × Gas Neutralizing Canister - On the metal shelves in the northern room.

View location

|

Show on map

Witness interrogation room - Police station 1F

Normal

1 × Gas Neutralizing Canister - On the metal shelves in the northern room.

View location

|

Show on map

Witness interrogation room - Police station 1F

Hard

1 × Gas Neutralizing Canister - On the metal shelves in the northern room.

View location

|

Show on map

East office - Police station 1F

Easy

2 × Gas Neutralizing Canister - On the benches in the north west corner of the room.

View location

|

Show on map

East office - Police station 1F

Normal

1 × Gas Neutralizing Canister - On the benches in the north west corner of the room.

View location

|

Show on map

Emergency stairwell - Police station 2F

Easy

1 × Gas Neutralizing Canister - On the floor at the top of the stairs.

View location

|

Show on map

Emergency stairwell - Police station 2F

Normal

1 × Gas Neutralizing Canister - On the floor at the top of the stairs.

View location

|

Show on map

Emergency stairwell - Police station 2F

Hard

1 × Gas Neutralizing Canister - On the floor at the top of the stairs.

View location

|

Show on map

Rooftop - Police station 2F

Easy

1 × Gas Neutralizing Canister - On the utility box on the west side of the rooftop.

View location

|

Show on map

Rooftop - Police station 2F

Normal

1 × Gas Neutralizing Canister - On the utility box on the west side of the rooftop.

View location

|

Show on map

Rooftop - Police station 2F

Hard

1 × Gas Neutralizing Canister - On the utility box on the west side of the rooftop.

View location

|

Show on map

Waiting room - Police station 2F

Easy

1 × Gas Neutralizing Canister - On the table in the south east corner of the east side of the waiting room.

1 × Gas Neutralizing Canister - On the floor in the south east corner of the east side of the waiting room.

View location

|

Show on map

Waiting room - Police station 2F

Normal

1 × Gas Neutralizing Canister - On the table in the south east corner of the east side of the waiting room.

View location

|

Show on map

Main Hall - Police station 2F

Easy

1 × Gas Neutralizing Canister - On the floor near the locked double doors on the west side of the balcony.

View location

|

Show on map

Main Hall - Police station 2F

Normal

1 × Gas Neutralizing Canister - On the floor near the locked double doors on the west side of the balcony.

1 × Gas Neutralizing Canister - On the floor in the far south east corner of the balcony.

View location

|

Show on map

Main Hall - Police station 2F

Hard

1 × Gas Neutralizing Canister - On the floor near the locked double doors on the west side of the balcony.

View location

|

Show on map

1F East hall - Police station 1F

Easy

1 × Gas Neutralizing Canister - On the floor underneath the small table with the statue in the north east corner of the corridor.

View location

|

Show on map

1F East hall - Police station 1F

Normal

1 × Gas Neutralizing Canister - On the floor underneath the small table with the statue in the north east corner of the corridor.

View location

|

Show on map

1F East hall - Police station 1F

Hard

1 × Gas Neutralizing Canister - On the floor underneath the small table with the statue in the north east corner of the corridor.

View location

|

Show on map

B1F East hall - Police station B1F

Very Hard

1 × Gas Neutralizing Canister - On the boxes in the east corner of the corridor.

View location

|

Show on map

Substation room - Police station B1F

Easy

2 × Gas Neutralizing Canister - On the floor on the west side of the room.

View location

|

Show on map

Substation room - Police station B1F

Normal

2 × Gas Neutralizing Canister - On the floor on the west side of the room.

View location

|

Show on map

Substation room - Police station B1F

Hard

1 × Gas Neutralizing Canister - On the floor on the west side of the room.

View location

|

Show on map

Underground parking garage - Police station B1F

Easy

2 × Gas Neutralizing Canister - On the ground near the eastern door.

View location

|

Show on map

Underground parking garage - Police station B1F

Normal

1 × Gas Neutralizing Canister - On the ground near the eastern door.

View location

|

Show on map

B1F West hall - Police station B1F

Easy

1 × Gas Neutralizing Canister -

On the floor next to the table opposite the gate leading to the

holding cells

at the west end of the passage.

View location

|

Show on map

Kennel - Police station B1F

Very Hard

1 × Gas Neutralizing Canister - On the ground next to the wall on the north side of the room.

View location

|

Show on map

Kennel - Police station B1F

Easy

1 × Gas Neutralizing Canister - On the floor near the manhole in the north east corner of the room.

View location

|

Show on map

Kennel - Police station B1F

Normal

1 × Gas Neutralizing Canister - On the floor near the manhole in the north east corner of the room.

View location

|

Show on map

Kennel - Police station B1F

Hard

1 × Gas Neutralizing Canister - On the floor near the manhole in the north east corner of the room.

View location

|

Show on map

There are no locations to show for this mode. The following modes are applicable: