Nosferatu
(Resident Evil Code: Veronica)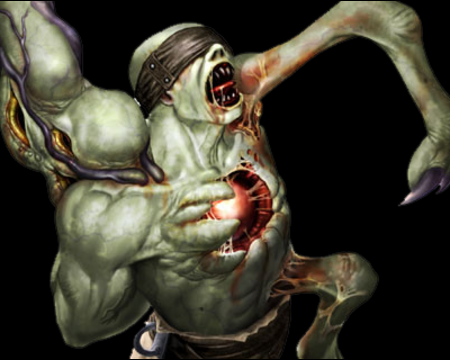 This tormented creature was once Alexander Ashford, the father of
Alfred
and
Alexia
. The twins took it upon themselves to use their father as a test subject of the prototype T-Veronica Virus. Unfortunately the experiment ended in failure, and Alexander lost his mind and his soul.
The battle with Nosferatu is a dangerous one, as he has several methods of attack. Be sure to keep away from him as his multiple arm-like appendages can lash out and knock you off the edge of the
Helipad
. Also be wary of the purple gas he emits from his body, as if you become exposed to this there's a chance you can become poisoned. It's not just any poison though as a regular
Blue Herb
cannot cure it. Instead you will have to acquire the special
Serum
.
Location
There are no locations to show.