Explosive Rounds
(Resident Evil)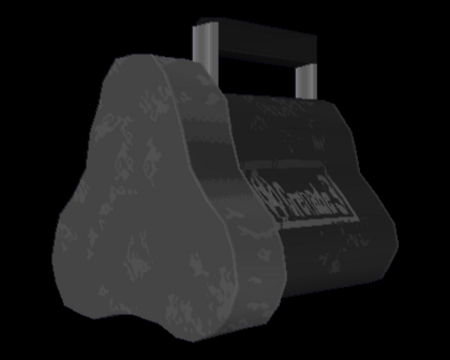 Powerful Rounds for the Bazooka.
A container of six shells. The standard ammunition for the
Bazooka
.
They are highly explosive but not as precise as the other forms of rounds. The spread of these rounds upon detonation is quite wide, capable of damaging several enemies at once in close proximity.
| | |
| --- | --- |
| Category | Weaponry (Ammunition) |
Statistics
| Game mode | Occurrences | Sum total |
| --- | --- | --- |
| Jill | 5 | 30 |
| Jill (Arranged / Advanced) | 4 | 24 |
| Jill (Deadly Silence Rebirth) | 6 | 36 |
Location
Study - Mansion 2F

Jill

Explosive Rounds (1×6) - In the secret compartment behind the wardrobe.

View location

|

Show on map

Study - Mansion 2F

Jill (Deadly Silence Rebirth)

Explosive Rounds (1×6) - In the secret compartment behind the wardrobe.

View location

|

Show on map

Guardhouse Save Room - Guardhouse 1F

Jill

Explosive Rounds (1×6) - On the bookshelf on the west side of the room.

View location

|

Show on map

Guardhouse Save Room - Guardhouse 1F

Jill (Arranged / Advanced)

Explosive Rounds (1×6) - On the bookshelf on the west side of the room.

View location

|

Show on map

Guardhouse Save Room - Guardhouse 1F

Jill (Deadly Silence Rebirth)

Explosive Rounds (1×6) - On the bookshelf on the west side of the room.

View location

|

Show on map

Generator Room - Underground

Jill

Explosive Rounds (1×6) - On top of the machinery in the offshoot area.

View location

|

Show on map

Generator Room - Underground

Jill (Arranged / Advanced)

Explosive Rounds (1×6) - On top of the machinery in the offshoot area.

View location

|

Show on map

Generator Room - Underground

Jill (Deadly Silence Rebirth)

Explosive Rounds (1×6) - On top of the machinery in the offshoot area.

View location

|

Show on map

There are no locations to show for this game mode. The following game modes are applicable: