Armor Room - Mansion 2F
(Resident Evil)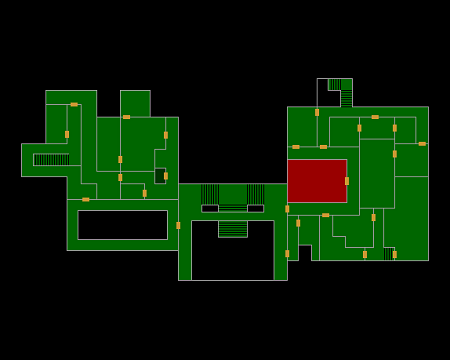 A stone-laden room lined with authentic suits of armour. The centre of this chamber features a large red button on the floor. When pressed, it will flood the room with noxious gas unless the two vents in the room are somehow blocked.
To access this room you need the
Armor Key
.
This place is linked to the following locations:
'C' Passage
.
Contents
Sun Crest

Jill

Inside the cabinet at the back of the room. Push the two movable statues over the vents in the floor and then push the button the in center of the room to open the cabinet.

View detail

|

Show on map

Sun Crest

Chris

Inside the cabinet at the back of the room. Push the two movable statues over the vents in the floor and then push the button the in center of the room to open the cabinet.

View detail

|

Show on map

Emblem

Jill (Arranged/Advanced)

Inside the cabinet at the back of the room. Push the two movable statues over the vents in the floor and then push the button the in center of the room to open the cabinet.

View detail

|

Show on map

Emblem

Chris (Arranged/Advanced)

Inside the cabinet at the back of the room. Push the two movable statues over the vents in the floor and then push the button the in center of the room to open the cabinet.

View detail

|

Show on map

Sun Crest

Jill (Deadly Silence Rebirth)

Inside the cabinet at the back of the room. Solve the puzzle with the scales to open the cabinet.

View detail

|

Show on map

Sun Crest

Chris (Deadly Silence Rebirth)

Inside the cabinet at the back of the room. Solve the puzzle with the scales to open the cabinet.

View detail

|

Show on map

There are no contents to show for this mode. The following modes are applicable: