Large Gallery - Mansion 1F
(Resident Evil)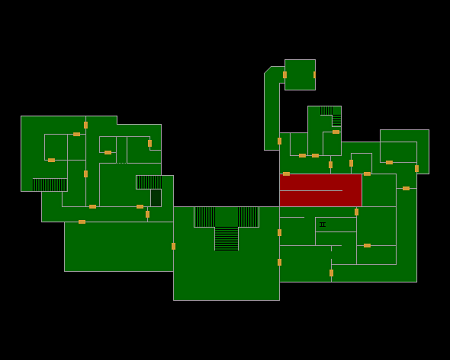 A large rectangular room containing many pictures on the inside separating wall. This room features a puzzle that will grant you access to an item hidden behind the picture at the far end of the gallery labelled "The End of Life". You must examine and push the switches underneath the pictures in the following order:
A newborn baby

An infant

A lively boy

A young man

A tired middle-aged man

A stern-looking old man

The end of life

This place is linked to the following locations:
Back Passage
.
Contents
7 Crows

Jill

Perched on the lighting rail above you. They will only attack you if you fire at them or you fail to solve the picture puzzle correctly.

View detail

|

Show on map

7 Crows

Jill (Arranged/Advanced)

Perched on the lighting rail above you. They will only attack you if you fire at them or you fail to solve the picture puzzle correctly.

View detail

|

Show on map

7 Crows

Jill (Deadly Silence Rebirth)

Perched on the lighting rail above you. They will only attack you if you fire at them or you fail to solve the picture puzzle correctly.

View detail

|

Show on map

7 Crows

Chris

Perched on the lighting rail above you. They will only attack you if you fire at them or you fail to solve the picture puzzle correctly.

View detail

|

Show on map

7 Crows

Chris (Arranged/Advanced)

Perched on the lighting rail above you. They will only attack you if you fire at them or you fail to solve the picture puzzle correctly.

View detail

|

Show on map

7 Crows

Chris (Deadly Silence Rebirth)

Perched on the lighting rail above you. They will only attack you if you fire at them or you fail to solve the picture puzzle correctly.

View detail

|

Show on map

Star Crest

Jill

In a secret compartment behind the picture representing "The End Of Life".

View detail

|

Show on map

Star Crest

Jill (Deadly Silence Rebirth)

In a secret compartment behind the picture representing "The End Of Life".

View detail

|

Show on map

Star Crest

Chris

In a secret compartment behind the picture representing "The End Of Life".

View detail

|

Show on map

Star Crest

Chris (Deadly Silence Rebirth)

In a secret compartment behind the picture representing "The End Of Life".

View detail

|

Show on map

Wind Crest

Jill (Arranged/Advanced)

In a secret compartment behind the picture representing "The End Of Life".

View detail

|

Show on map

Wind Crest

Chris (Arranged/Advanced)

In a secret compartment behind the picture representing "The End Of Life".

View detail

|

Show on map

There are no contents to show for this mode. The following modes are applicable: