Scrapbook
(Resident Evil)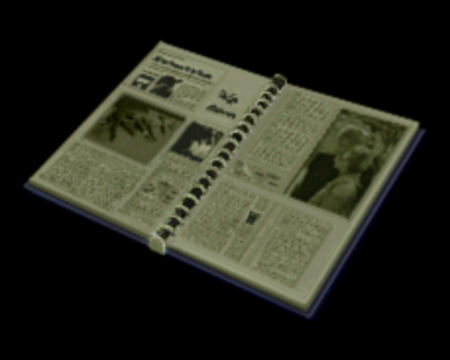 A scrapbook with various articles about the recent animal attacks in the Raccoon City area and Arklay Mountain region.
Transcript
SCRAPBOOK

RACCOON TIMES MAY 27, 1998

ANIMAL ATTACK? WOMAN MUTILATED

May 20. Around 10 PM a 20-year-old young woman's body was found by a passer-by on the left bank of Marble River in the Cider District of Raccoon City.

Raccoon police assume it to be a grizzly or other animal's doing because there are teeth marks along her mutilated arms and left foot that show considerable power. Since she was wearing a hiking boot on her remaining foot, it has been determined that she was attacked in the Arklay Mountains and fell into the river. They are hurrying to identify this woman.

RACCOON WEEKLY JUNE 16, 1998

MONSTERS IN ARKLAY MOUNTAINS?

Some people claim they've seen monsters in the Arklay mountains.

The monsters are supposedly about the same size as large dogs and usually run in a pack as wolves do.

This may sound like a group of ordinary wild dogs, but these monsters are surprisingly fierce and hard to hurt.

They say these dogs won't bother you unless you wake them, so you smart readers should stay out of the Arklay Mountains for the time being.

But if you're looking for adventure, check it out! You wanna try?

RACCOON TIMES JULY 9, 1998

MYSTERY ON ARKLAY MOUNTAINS: MOUNTAIN ROAD BLOCKED

Due to successive disasters in the Arklay Mountains, the city authorities have decided to block the road leading to the foothills.

At the same time, Raccoon police intend to begin the search for lost people with the help of S.T.A.R.S. team members. They expect great difficulty because of the vast size of the Arklay Mountains and the primeval forest that covers most of the area.

Also people are still reporting sightings of grotesque monsters in the mountains.
Location
Large Library - Mansion 2F

Jill (Deadly Silence Rebirth)

On the small table between the bookcases.

View locationShow on map

Large Library - Mansion 2F

Chris (Deadly Silence Rebirth)

On the small table between the bookcases.

View locationShow on map

There are no locations to show for this mode. The following modes are applicable: