Jewelry Box (1)
(Resident Evil Remake)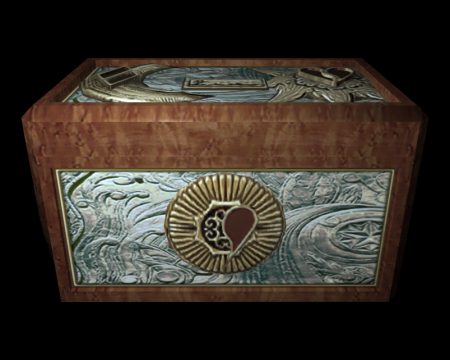 There's a design of the sun and the moon. On the plate it says, "Sunshine will awaken me."
An elegant jewelry box, with a design of the Sun and the Moon. This is the first of three jewelry boxes you acquire in the game.
You need to follow the clues written on the box, and press the switches on the side of this box corresponding to the sun and the moon. The the lid will open and you'll retrieve the
Mask without eyes, nose, or mouth
.
| | |
| --- | --- |
| Category | Item (Object, tool or key) |
Location
Armor Room - Mansion 2F

Jill (Very Easy)

Inside the alcove on the far wall, solve the puzzle to open it.

View locationShow on map

Armor Room - Mansion 2F

Chris (Very Easy)

Inside the alcove on the far wall, solve the puzzle to open it.

View locationShow on map

Armor Room - Mansion 2F

Jill (Easy)

Inside the alcove on the far wall, solve the puzzle to open it.

View locationShow on map

Armor Room - Mansion 2F

Chris (Easy)

Inside the alcove on the far wall, solve the puzzle to open it.

View locationShow on map

Armor Room - Mansion 2F

Jill (Normal)

Inside the alcove on the far wall, solve the puzzle to open it.

View locationShow on map

Armor Room - Mansion 2F

Chris (Normal)

Inside the alcove on the far wall, solve the puzzle to open it.

View locationShow on map

Armor Room - Mansion 2F

Jill (Hard)

Inside the alcove on the far wall, solve the puzzle to open it.

View locationShow on map

Armor Room - Mansion 2F

Chris (Hard)

Inside the alcove on the far wall, solve the puzzle to open it.

View locationShow on map

There are no locations to show for this mode. The following modes are applicable: