Gold Emblem
(Resident Evil Remake)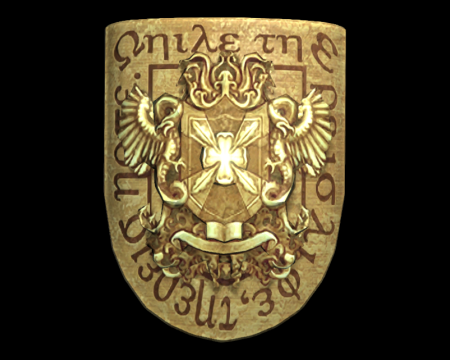 It's galled all around the outer edges due to frequent fitting.
A large golden emblem with a family crest pattern on the front.
In order to retrieve this item without being locked in the passage, you need to replace it with the ordinary
Emblem
. Then you can place this one above the fireplace in the
Dining Room
to reveal a secret compartment inside the Grandfather Clock.
| | |
| --- | --- |
| Category | Item (Object, tool or key) |
Location
Bar - Mansion 1F

Jill (Very Easy)

In the indentation at the base of the Beethoven statue inside the hidden area.

View location

|

Show on map

Bar - Mansion 1F

Chris (Very Easy)

In the indentation at the base of the Beethoven statue inside the hidden area.

View location

|

Show on map

Bar - Mansion 1F

Jill (Easy)

In the indentation at the base of the Beethoven statue inside the hidden area.

View location

|

Show on map

Bar - Mansion 1F

Chris (Easy)

In the indentation at the base of the Beethoven statue inside the hidden area.

View location

|

Show on map

Bar - Mansion 1F

Jill (Normal)

In the indentation at the base of the Beethoven statue inside the hidden area.

View location

|

Show on map

Bar - Mansion 1F

Chris (Normal)

In the indentation at the base of the Beethoven statue inside the hidden area.

View location

|

Show on map

Bar - Mansion 1F

Jill (Hard)

In the indentation at the base of the Beethoven statue inside the hidden area.

View location

|

Show on map

Bar - Mansion 1F

Chris (Hard)

In the indentation at the base of the Beethoven statue inside the hidden area.

View location

|

Show on map

There are no locations to show for this game mode. The following game modes are applicable: