Fuel Supply Capsule (Empty)
(Resident Evil Remake)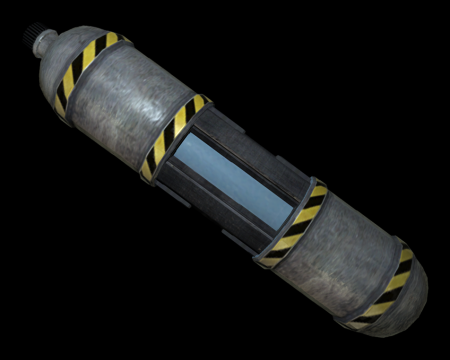 It's empty.
A special canister designed for holding a nitro compound.
This capsule is empty when you find it. In order to refill it with the nitro compound needed to restore power to the
Underground Laboratory
, you need to take it to
X-Ray Room B
where there is a refuelling device. Once refilled, it becomes the
Fuel Supply Capsule
.
| | |
| --- | --- |
| Category | Item (Object, tool or key) |
Location
Power Maze A - Laboratory B3

Jill (Very Easy)

Inside the fuelling device in the south west corner of the maze.

View location

|

Show on map

Power Maze A - Laboratory B3

Chris (Very Easy)

Inside the fuelling device in the south west corner of the maze.

View location

|

Show on map

Power Maze A - Laboratory B3

Jill (Easy)

Inside the fuelling device in the south west corner of the maze.

View location

|

Show on map

Power Maze A - Laboratory B3

Chris (Easy)

Inside the fuelling device in the south west corner of the maze.

View location

|

Show on map

Power Maze A - Laboratory B3

Jill (Normal)

Inside the fuelling device in the south west corner of the maze.

View location

|

Show on map

Power Maze A - Laboratory B3

Chris (Normal)

Inside the fuelling device in the south west corner of the maze.

View location

|

Show on map

Power Maze A - Laboratory B3

Jill (Hard)

Inside the fuelling device in the south west corner of the maze.

View location

|

Show on map

Power Maze A - Laboratory B3

Chris (Hard)

Inside the fuelling device in the south west corner of the maze.

View location

|

Show on map

There are no locations to show for this game mode. The following game modes are applicable: