Scrub Brush
(Resident Evil Outbreak File #2)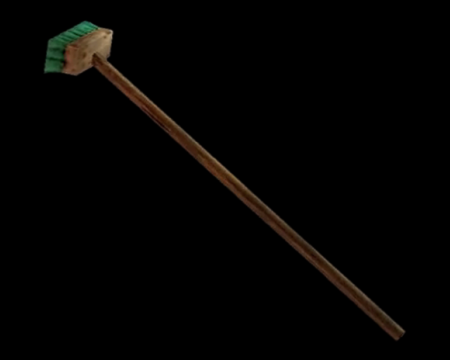 A cleaning brush with a long pole.
An ordinary floor brush. You can use this to knock enemies backwards, causing them to stagger whilst issuing a small amount of damage.
When this brush is used a certain number of times, it will eventually break and turn into a
Wooden Pole
.
| | |
| --- | --- |
| Category | Weaponry (Melee weapon) |
Location
Elephant Restaurant - Area Near the Zoo

Easy

On the floor in the right-hand toilet stall on the south side of the room.

View location

|

Show on map

Elephant Restaurant - Area Near the Zoo

Normal

On the floor in the right-hand toilet stall on the south side of the room.

View location

|

Show on map

Elephant Restaurant - Area Near the Zoo

Hard

On the floor in the right-hand toilet stall on the south side of the room.

View location

|

Show on map

Auxiliary building 1F hall - Hospital 1F

Hard

On the ground in the middle of the passage in the western half of the hall.

View location

|

Show on map

Men's restroom (west) - Raccoon City subway - Subway B1F

Easy

Underneath the leftmost toilet stall door.

View location

|

Show on map

Men's restroom (west) - Raccoon City subway - Subway B1F

Normal

Underneath the leftmost toilet stall door.

View location

|

Show on map

Men's restroom (west) - Raccoon City subway - Subway B1F

Hard

Underneath the leftmost toilet stall door.

View location

|

Show on map

Men's restroom (west) - Raccoon City subway - Subway B1F

Very Hard

Underneath the leftmost toilet stall door.

View location

|

Show on map

Women's staff restroom - Employee area - Subway B1F

Normal

In the north east corner of the room.

View location

|

Show on map

Employee passage - Employee area - Subway B1F

Very Hard

In the corner of the section of the passage that splits off towards the north western rooms.

View location

|

Show on map

Control room - Employee area - Subway B1F

Easy

Propped up next to the wall in the south west corner of the room.

View location

|

Show on map

Control room - Employee area - Subway B1F

Normal

Propped up next to the wall in the south west corner of the room.

View location

|

Show on map

Control room - Employee area - Subway B1F

Hard

Propped up next to the wall in the south west corner of the room.

View location

|

Show on map

Emergency power room - Employee area - Subway B2F

Easy

Propped against the wall in the north east corner of the room.

View location

|

Show on map

Emergency power room - Employee area - Subway B2F

Hard

Propped against the wall in the north east corner of the room.

View location

|

Show on map

Elephant Restaurant - Area Near the Zoo

Easy

Propped up next to the wall in the north west corner of the kitchen area.

View location

|

Show on map

Elephant Restaurant - Area Near the Zoo

Normal

Propped up next to the wall in the north west corner of the kitchen area.

View location

|

Show on map

Office - Raccoon City Zoo

Easy

Propped up against the wall in the north west corner of the north west room.

View location

|

Show on map

Office - Raccoon City Zoo

Normal

Propped up against the wall in the north west corner of the north west room.

View location

|

Show on map

Passage in front of elevator - Umbrella research facility

Normal

Propped up against the wall next to the door leading to the

east passage 1

in the north west corner of the passage.

View location

|

Show on map

Passage in front of elevator - Umbrella research facility

Very Hard

Propped up against the wall next to the door leading to the

east passage 1

in the north west corner of the passage.

View location

|

Show on map

Floodgate control room - Water treatment plant - Basement 1F

Easy

Propped up next to the wall in the north east corner of the room.

View location

|

Show on map

Floodgate control room - Water treatment plant - Basement 1F

Normal

Propped up next to the wall in the north east corner of the room.

View location

|

Show on map

Floodgate control room - Water treatment plant - Basement 1F

Hard

Propped up next to the wall in the north east corner of the room.

View location

|

Show on map

Break room - Water treatment plant - Basement 1F

Easy

Propped up next to the wall on the west side of the room.

View location

|

Show on map

Break room - Water treatment plant - Basement 1F

Normal

Propped up next to the wall on the west side of the room.

View location

|

Show on map

Break room - Water treatment plant - Basement 1F

Hard

Propped up next to the wall on the west side of the room.

View location

|

Show on map

Main street North - Urban area downtown

Easy

Sticking out of the debris in the south east corner of the street.

View location

|

Show on map

Main street North - Urban area downtown

Normal

Sticking out of the debris in the south east corner of the street.

View location

|

Show on map

Main street North - Urban area downtown

Hard

Sticking out of the debris in the south east corner of the street.

View location

|

Show on map

Footbridge - Urban area downtown

Easy

On the ground in the north east corner of the footbridge.

View location

|

Show on map

Footbridge - Urban area downtown

Normal

On the ground in the north east corner of the footbridge.

View location

|

Show on map

Office building stairwell - Urban area highway

Easy

Propped up next to the debris on the landing area at the top of the third flight of stairs.

View location

|

Show on map

Office building stairwell - Urban area highway

Normal

Propped up next to the debris on the landing area at the top of the third flight of stairs.

View location

|

Show on map

Office building stairwell - Urban area highway

Hard

Next to the bags of trash on the landing area at the top of the fourth flight of stairs.

View location

|

Show on map

Elevated highway - Urban area highway

Hard

Inside the back of the military truck in the south east corner of the highway.

View location

|

Show on map

Elevated highway - Urban area highway

Very Hard

Inside the back of the military truck in the south east corner of the highway.

On the ground next to the construction barriers in the south east corner of the highway.

View location

|

Show on map

There are no locations to show for this mode. The following modes are applicable: