Concrete Piece
(Resident Evil Outbreak File #2)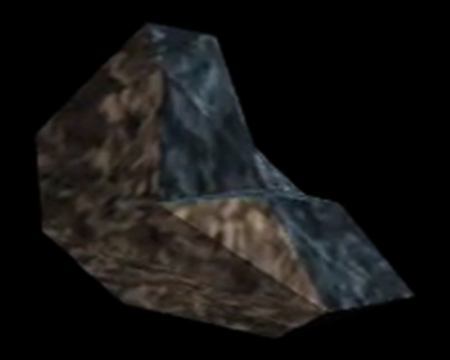 You can throw this to attack enemies.
A piece of debris from a building or demolished sidewalk. This can be used as a weapon and hurled at an enemy. A direct hit will cause them to fall unconscious for a short period of time.
David
can create an additional weapon from this item. He can combine this with an
Iron Pipe
using a piece of
Vinyl Tape
to create the
Hammer
.
| | |
| --- | --- |
| Category | Weaponry (Throwing weapon) |
Location
Hospital back gate - Forest 4

Easy

On the ground in the south west corner of the hospital building.

View location

|

Show on map

Hospital back gate - Forest 4

Normal

On the ground in the south west corner of the hospital building.

View location

|

Show on map

Hospital back gate - Forest 4

Hard

On the ground in the south west corner of the hospital building.

View location

|

Show on map

Main building 1F hall - Hospital 1F

Very Hard

On the floor at the end of the passage in the south west corner.

View location

|

Show on map

Auxiliary building 1F hall - Hospital 1F

Easy

On the ground at the top of the stairs in the north section in the eastern half of the hall.

View location

|

Show on map

Auxiliary building 1F hall - Hospital 1F

Normal

On the ground at the top of the stairs in the north section in the eastern half of the hall.

View location

|

Show on map

Auxiliary building 1F hall - Hospital 1F

Hard

On the ground at the top of the stairs in the north section in the eastern half of the hall.

View location

|

Show on map

Auxiliary building 1F hall - Hospital 1F

Very Hard

On the ground at the top of the stairs in the north section in the eastern half of the hall.

View location

|

Show on map

Intensive care unit - Hospital B1F

Very Hard

On the ground in the south east corner of the room.

View location

|

Show on map

Auxiliary building rooftop - Hospital rooftop

Easy

On the ground in the north west corner of the rooftop.

View location

|

Show on map

Auxiliary building rooftop - Hospital rooftop

Normal

On the ground in the north west corner of the rooftop.

View location

|

Show on map

Auxiliary building rooftop - Hospital rooftop

Hard

On the ground in the north west corner of the rooftop.

View location

|

Show on map

Auxiliary building rooftop - Hospital rooftop

Very Hard

On the ground in the north west corner of the rooftop.

View location

|

Show on map

Auxiliary building 2F hall - Hospital 2F

Easy

On the ground in the southern section of the hall.

View location

|

Show on map

Auxiliary building 2F hall - Hospital 2F

Normal

On the ground in the southern section of the hall.

View location

|

Show on map

Auxiliary building 2F hall - Hospital 2F

Hard

On the ground in the southern section of the hall.

View location

|

Show on map

Auxiliary building 1F hall - Hospital 1F

Easy

On the ground at the north end of the passage in the western half of the hall.

View location

|

Show on map

Auxiliary building 1F hall - Hospital 1F

Normal

On the ground at the north end of the passage in the western half of the hall.

View location

|

Show on map

Room 203 - Hospital 2F

Very Hard

On top of the bedside device between the two beds on the east side of the room.

View location

|

Show on map

Room 203 - Hospital 2F

Hard

Next to the windows in the south east corner of the room.

On the floor in the middle of the room.

View location

|

Show on map

West ticket gate - Raccoon City subway - Subway B1F

Normal

On the ground at the top of the stairs in the south west corner of the room.

View location

|

Show on map

West ticket gate - Raccoon City subway - Subway B1F

Hard

On the ground at the top of the stairs in the south west corner of the room.

View location

|

Show on map

West concourse - Raccoon City subway - Subway B1F

Easy

On the ground next to the wall in the south east area of the room.

View location

|

Show on map

Men's restroom (west) - Raccoon City subway - Subway B1F

Easy

On the floor underneath the sinks.

View location

|

Show on map

Men's restroom (west) - Raccoon City subway - Subway B1F

Normal

On the floor underneath the sinks.

View location

|

Show on map

Men's restroom (west) - Raccoon City subway - Subway B1F

Hard

On the floor underneath the sinks.

View location

|

Show on map

Employee passage - Employee area - Subway B1F

Very Hard

On the ground in the middle of the straight southern passage.

View location

|

Show on map

Women's staff restroom - Employee area - Subway B1F

Very Hard

In the north east corner of the room.

View location

|

Show on map

East tunnel - Raccoon City subway - Subway B3F (East tunnel)

Very Hard

On the ground in the south east corner of the tunnel. Only appears here after using the two emblems on the train and triggering the

Giant Giga Bite

boss battle.

View location

|

Show on map

Ventilation tower - Subway ventilation tower 1F

Easy

On the ground next to the wall on the east side of the tower.

View location

|

Show on map

Ventilation tower - Subway ventilation tower 1F

Normal

On the ground next to the wall on the east side of the tower.

View location

|

Show on map

Ventilation tower - Subway ventilation tower 1F

Hard

On the ground next to the wall on the east side of the tower.

View location

|

Show on map

Ventilation tower - Subway ventilation tower 1F

Very Hard

On the ground next to the wall on the east side of the tower.

View location

|

Show on map