Mine Detector
(Resident Evil Outbreak File #2)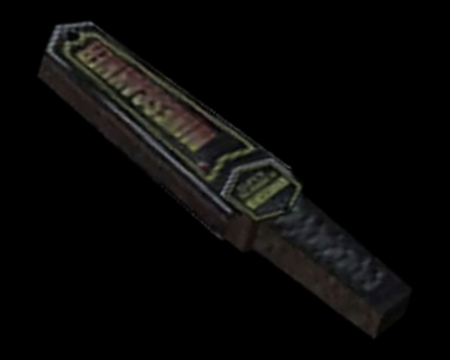 While equipped, an alarm sounds when near land mines.
A small handheld device used for detecting mines.
This item is used within the "End of the Road" scenario. Once you reach the
urban area
you will find that many of the locations have been littered with small land mines. These mines will detonate if you move too close to them, causing damage to anyone caught in the blast radius and sending them flying across the area. You can use this device to help alert yourself to the presence of these mines so you can safely avoid them.
| | |
| --- | --- |
| Category | Key item (End of the Road) |
Location
Behind the residential area - Urban area downtown

Easy

On the body of the dead mercenary in the northern end of the street.

View location

|

Show on map

Behind the residential area - Urban area downtown

Normal

On the body of the dead mercenary in the northern end of the street.

View location

|

Show on map

Behind the residential area - Urban area downtown

Hard

On the body of the dead mercenary in the northern end of the street.

View location

|

Show on map

Behind the residential area - Urban area downtown

Very Hard

On the body of the dead mercenary in the northern end of the street.

View location

|

Show on map

There are no locations to show for this mode. The following modes are applicable: