Blood Infusion Pack
(Resident Evil Outbreak File #2)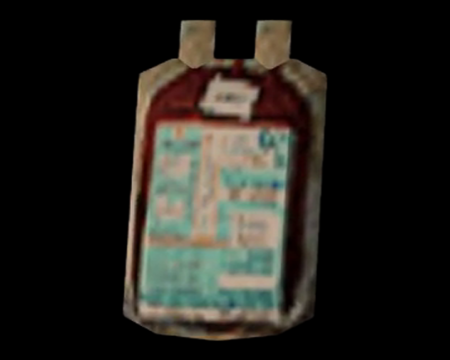 It contains blood for an infusion.
A plastic pouch containing blood. Traditionally used for performing a blood transfusion.
These packs are available within "Underbelly" scenario. They can be used to distract the
Giga Bite
creatures by placing one on the ground. The giant insects will stop their pursuit of you until the blood pack is empty, a small window of time to allow you to escape. Be warned though, as after the
Giga Bite
has finished feeding it will grow in size.
| | |
| --- | --- |
| Category | Key item (Underbelly) |
Location
East entrance - Raccoon City subway - Subway B1F

Very Hard

Inside the open briefcase on the ground next to the shutter on the west side of the passage.

View location

|

Show on map

Subway car - Raccoon City subway - Subway B1F (Platform)

Hard

On the seats in the north east area of the carriage.

View location

|

Show on map

Subway car - Raccoon City subway - Subway B1F (Platform)

Easy

On the single seat next to the doors in the south west area of the carriage.

View location

|

Show on map

Subway car - Raccoon City subway - Subway B1F (Platform)

Normal

On the single seat next to the doors in the south west area of the carriage.

View location

|

Show on map

Employee passage - Employee area - Subway B1F

Easy

Inside the trash bin on the west side of the straight southern passage.

View location

|

Show on map

Employee passage - Employee area - Subway B1F

Normal

Inside the trash bin on the west side of the straight southern passage.

View location

|

Show on map

Employee passage - Employee area - Subway B1F

Hard

Inside the trash bin on the west side of the straight southern passage.

View location

|

Show on map

Break room - Employee area - Subway B1F

Very Hard

On the chair next to the bunkbeds in the north east area of the room.

View location

|

Show on map

Control room - Employee area - Subway B1F

Easy

On the office chair on the north side of the room.

View location

|

Show on map

Breaker room - Employee area - Subway B1F

Easy

On the floor in the north east corner of the room.

View location

|

Show on map

Breaker room - Employee area - Subway B1F

Normal

On the floor in the north east corner of the room.

View location

|

Show on map

Stairwell - Employee area - Subway B1F

Easy

On the floor next to the door at the bottom of the stairs.

View location

|

Show on map

Emergency power room - Employee area - Subway B2F

Very Hard

On the shelves in the south west corner of the room.

View location

|

Show on map

Underground emergency passage - Employee area - Subway B2F

Easy

On the ground in the south west corner of the passage.

View location

|

Show on map

Ventilation tower - Subway ventilation tower 1F

Normal

On the grating above the giant extractor fan in the middle of the tower.

View location

|

Show on map

There are no locations to show for this mode. The following modes are applicable: