CTS manual
(Resident Evil Outbreak File #2)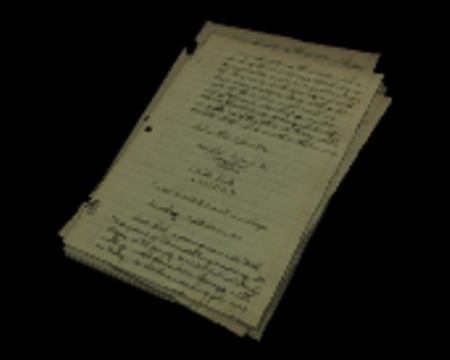 This file is available during the "End of the Road" scenario.
| | |
| --- | --- |
| Category | File (End of the Road) |
Transcript
"CTS manual"

CTS Mine Detector Outline:

This device is designed for the detection of claymore anti-personnel mines. When detected, an alarm sounds to alert the user.

The alarm denotes distance by decreasing the time between beeps

as the device is placed in closer vicinity to the mine in question. Caution must be exercised when interpreting this alarm sound.

Only qualified personnel may deal with a mine's removal and disposal. In emergencies, however, a mine may be detonated from afar with firearms or other methods of attack. In this situation, caution is urged.
Location
Behind the residential area - Urban area downtown

Easy

On the body of the dead mercenary in the northern end of the street.

View location

|

Show on map

Behind the residential area - Urban area downtown

Normal

On the body of the dead mercenary in the northern end of the street.

View location

|

Show on map

Behind the residential area - Urban area downtown

Hard

On the body of the dead mercenary in the northern end of the street.

View location

|

Show on map

Behind the residential area - Urban area downtown

Very Hard

On the body of the dead mercenary in the northern end of the street.

View location

|

Show on map

There are no locations to show for this mode. The following modes are applicable: