Hemostat
(Resident Evil Outbreak File #2)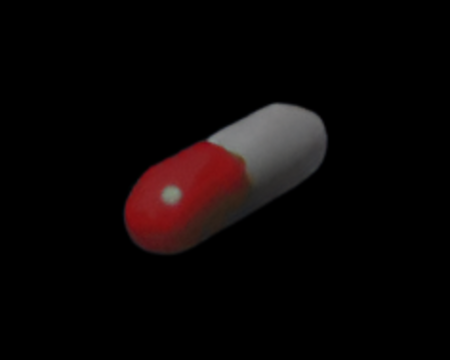 Stops bleeding.
A small white and red pill that can be used to stop bleeding.
If a character is inflicted the the "BLEED" status, taking one of these pills will stop the bleeding and return them to normal movement speed if possible.
George
can create hemostat pills by combining
Red Herbs
with his
Medical Set
.
| | |
| --- | --- |
| Category | Common item (Recovery item) |
Location
Reception office - Hospital 1F

Very Hard

Inside the draws of the metal cabinet in the north east corner of the room.

View locationShow on map

West ticket gate - Raccoon City subway - Subway B1F

Easy

On the ground in front of the ticket machines in the north east corner of the room.

View locationShow on map

East ticket gate - Raccoon City subway - Subway B1F

Easy

On the ticket booth window ledge on the east side of the room.

View locationShow on map

Subway car - Raccoon City subway - Subway B1F (Platform)

Easy

On the single seat next to the doors in the north west area of the carriage.

View locationShow on map

Break room - Employee area - Subway B1F

Hard

On the floor near the vending machines in the north west corner of the room.

View locationShow on map

Control room - Employee area - Subway B1F

Normal

On the computer desk in the south west corner of the room.

View locationShow on map

East tunnel - Raccoon City subway - Subway B3F (East tunnel)

Hard

On the maintenance cabinets between the tracks on the west side of the tunnel.

View locationShow on map

East tunnel - Raccoon City subway - Subway B3F (East tunnel)

Normal

On the ground between the tracks in the middle of the tunnel, located near the left-hand pillar.

View locationShow on map

Service road - Raccoon City Zoo

Very Hard

In the water channel, on the ground next to the western fence.

View locationShow on map

Show animals' boarding house - Raccoon City Zoo

Hard

On the floor next to the control panel in the north west corner o the room.

View locationShow on map

Behind the residential area - Urban area downtown

Very Hard

Behind the open window next to the steps leading to the

footbridge

on the eastern side of the area.

View locationShow on map

There are no locations to show for this mode. The following modes are applicable: