Playing Manual
(Resident Evil Code: Veronica)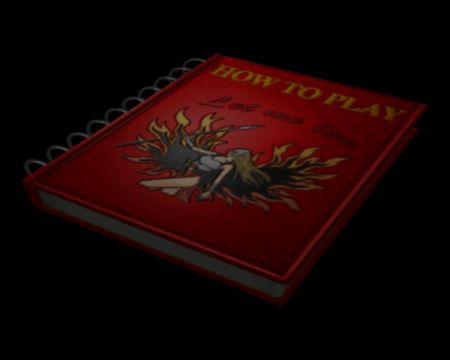 Provides you with helpful hints and tips on playing the game.
Transcript
PLAYING MANUAL

CHECK ALL ITEMS

When you obtain a new item, always remember to look at it with the "CHECK" command on the status screen. Remember, it's always best to rotate the item so you can check it from different angles.

TRY TO PUSH OBJECTS

If you face an object and press and hold up on the directional button, sometimes you will be able to push it. You may find hidden rooms and items this way.

USE THE QUICK TURN

You can turn 180 degrees instantly by pressing the Cancel button while holding the directional button down. This is a very effective move when you attack an enemy and then want to turn around and run.

USE THE MAP SCREEN

When you are lost or are unsure of what to do, check the map screen. You can easily tell where you've been and can see which doors you have unlocked.

CLIMB/DESCEND

You can climb/descend some objects. To do this, face the object and then push the Action button.

SECURITY BOXES

The items you store in a Security Box in the prison cannot be accessed through an Item Box. Make sure you remove all important items from a Security Box before exiting a room.

I CAN'T TAKE THE GOLD LUGERS FROM THE PROJECTION ROOM

You cannot release the trap by yourself. After certain events occur, you will be able to release the trap and obtain the Gold Lugers.

I CAN'T ENTER THE BIO-EXPERIMENT ROOM

Once the shutter near the bio-experiment room shuts, you can't open it until the ventilation process completes due to the in-room air pollution problems.

I CAN'T CLIMB THE LADDER IN THE BEDROOM

You will need to place a pair of items onto the two music boxes. Then you will have to...

I CAN'T SEND LOADS PROPERLY WITH THE SORTER

The sorter judges which room each load will be sent to by an item that is posted on the load. You should check an already sorted load in the room you would like to send your load to and then...

CHARACTER SWITCHING

When your player character changes, make sure to leave enough weapons and ammo for the others.

REUSED ITEMS

While you are playing as Chris, there's an occasion where you'll need to use the same item you used when you played as Claire. If you get stuck, remember what you did in Claire's story.

TAKE ADVANTAGE OF TRAPS

During the game, there are many traps that may jeopardize your life. These traps can possibly work to your advantage if you know how to use them...
Location
Claire's Inventory

Inside her inventory when you start the game.

There are no locations to show.