Butler's Letter
(Resident Evil Code: Veronica)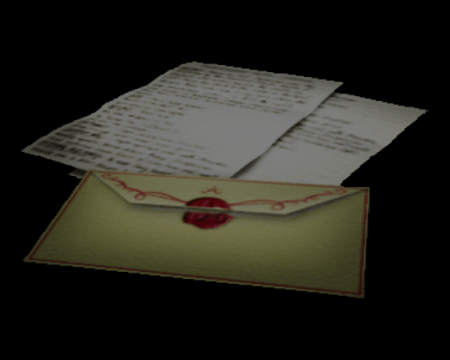 A letter written by the Ashford family butler, explaining the reasons for his absence.
Transcript
BUTLER'S LETTER

Sir Alfred,

Please forgive me, as I must tell you of my abrupt departure by leaving this letter.

I first served your father, Lord Alexander, and have for so long shared in the joys and sorrows of the Ashford family. Lord Alexander disappeared unexpectedly 15 years ago, then an accident during an experiment took the life of our dear Alexia.

You were forced to become the master of the family at a very young age, and nearly lost your sanity from the sorrow of having lost all of your family members at once.

There was nothing I could do, and I felt powerless.

I first thought that I should kill myself to apologize. I then realized that it would be an insult to our dear Lord Alexander and Alexia, in the other world...

Scott Harman
Butler,
Ashford family
Location
Office - Antarctic Transport Terminal B2

In the locker in the hidden area behind the bookcase.

View location

|

Show on map

There are no locations to show.