Pedro's Notes on the Bracelet
(Resident Evil Revelations 2)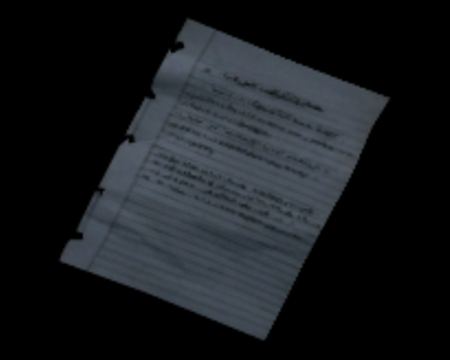 | | |
| --- | --- |
| Category | File (Episode 2 File) |
Transcript
Pedro's Notes on the Bracelet

The Bracelet (What I've learned so far)

- There's a GPS tracker inside. Probably for keeping tabs on where we are.

- It's a two-way transmitter. We can hear her, and she can hear us.

- The source of the transmissions is coming from the center of the island, someplace high up. It's gotta be that funky-looking tower. I have no doubt she's there too!

- It also seems to be keeping track of our vital signs. For what purpose?

She wasn't kidding when she said she infected us with a virus. Holy balls! What are we supposed to do?
Location
Episode Two

Barry

Fishing Village. On the bar inside the Wossek Bar.

There are no locations to show for this mode. The following modes are applicable: